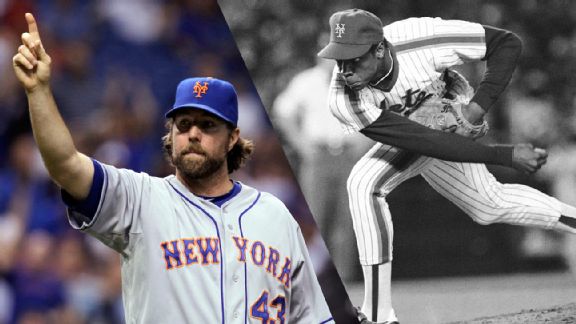 AP Photo
R.A. Dickey and Dwight Gooden are well-deserving in their inclusion on this list.
This is the third in a series of top 10 lists we will be generating on the Mets this month. We've previously covered the New York Mets' most notable home runs (part 1|part 2) and best defensive players (part 1|part 2). Next up: The 10 greatest pitching performances in Mets history. We've combined regular season and postseason for this one, and we'll space out the results over two days.
Feel free to share your thoughts in the comments.
10. Roger McDowell vs. Astros (Oct. 15, 1986)
In the interest of doing something different, we're going to start with a relief appearance.
Often forgotten in the Mets' 16-inning, Game 6 comeback win over the Astros that clinched the NL pennant is the five scoreless relief innings from McDowell that kept the game even from the ninth inning through the 13th.
McDowell, who was known for adventurous relief appearances (and a quirky personality that likely helped him get through them), allowed one hit and no walks in that stint when any significant blemish would have given the Astros a win and set up a Game 7 against Mike Scott.
Stat to know: The king of long relief for the Mets was Tug McGraw, who had five (!) scoreless relief appearances of at least six innings spanning a little more than seven years from 1965 to 1972. McDowell's game edged out one slightly longer relief effort -- seven innings of two-run ball in relief by Nolan Ryan against the Braves in Game 3 of the 1969 NLCS.
9. Al Leiter vs. Reds (Oct. 4, 1999)
10 Great Efforts Not in Top 10
Mets historian Greg Prince made sure I included this one prominently, calling it the most clutch pitching performance in Mets history.
I'm inclined to agree.
Had the Mets lost, it would have been their second straight regular season with a devastating postseason-less finish (ask the 2007 and 2008 clubs how that feels).
But Leiter came up huge, with a two-hit shutout in Cincinnati to put the Mets into the playoffs.
Stat to know: Leiter's start arguably ranks as the best "final game of the regular season" start by a Mets pitcher. The worst is an easy choice as well (and we apologize for being a downer here) -- Tom Glavine's seven runs allowed in the first inning of the 2007 finale against the Marlins.
8. Ron Darling vs. Cardinals (Oct. 1, 1985)
Also high on the clutch scale was this game from Darling, the best start of his Mets career. He'd stand toe-to-toe with Cardinals ace John Tudor -- who was in the middle of a 20-1 stretch -- for nine scoreless innings in a bid to keep the Mets' season alive (the team entered three games back of the Cardinals with six to play).
Darryl Strawberry would win the game with an epic home run off the Busch Stadium clock in the 11th inning. Darling would settle for a no-decision but did everything possible to give the Mets a win in this one.
Stat to know: The most scoreless innings for a pitcher in a no-decision for the Mets is 15, by Rob Gardner against the Philadelphia Phillies on October 2, 1965. Gardner allowed five hits and struck out seven, but the Mets did not score for him. The game was called, ending as a 0-0 tie.
7. R.A. Dickey vs. Rays & Orioles (June 13/18, 2012)
Dickey's baffling knuckleball was at its very best over two interleague starts in June. He'd allow one hit in each and could have thrown a no-hitter against the Rays but for an infield single (on which the Mets would appeal the scoring decision).
Stat to know: Dickey is one of four pitchers since the end of World War II to throw consecutive complete games allowing one hit or fewer. The others are Hall-of-Famer Whitey Ford (1955 Yankees), Sam McDowell (1966 Indians) and Dave Stieb (1988 Blue Jays).
6. Dwight Gooden vs. Cubs & Pirates (Sept. 7/12, 1984)
People talk about how when Darryl Strawberry or Mike Piazza came to bat, you dropped whatever you were doing to watch. The same was true for when Dwight Gooden pitched.
Gooden, who turned 50 on Sunday, was a phenomenon in his first two seasons. He was the most overpowering, dominating pitcher the Mets have ever had.
Arguably the two starts that best epitomized this came back-to-back in 1984, his rookie season. In the first, he came within a Keith Moreland nubber of a no-hitter against the Cubs. In the second, he struck out 16 without a walk in a five-hit shutout of the Pirates.
Dickey's starts rate better on the statistical scale (per Bill James Game Score), but we'll put Gooden's ahead of them because of the intangible nature of what it was like to watch him pitch.
And oh, by the way, we could have easily included the next start after these two. All he did in that game was strike out 16 ... again.
Stat to know: Gooden made 50 starts from August 11, 1984, to May 6, 1986. In those 50 starts, he was 37-5 with a 1.38 ERA and 412 strikeouts. The second-place finishers in wins, ERA and strikeouts were at 29, 2.18 and 310 respectively.
Fernando Valenzuela was considered one of baseball's best pitchers at that time. Gooden gave up 68 runs in those 50 starts. Valenzuela allowed twice that many (136).
The Elias Sports Bureau notes that only two other pitchers in major league history had as many as 37 wins with no more than five losses over a span of 50 starts: Lefty Grove for the Philadelphia Athletics from 1929 to 1932, and Johnny Allen for the Indians from 1936 to 1938. However, Grove's lowest ERA over that stretch was 2.06 and his highest number of strikeouts was 257, and Allen's best was a 2.70 ERA and 232 strikeouts.
The only pitcher with a lower ERA over 50 starts in the live-ball era (1920 to date) is Bob Gibson, who had several stretches from 1967 to 1969, with a low of 1.23.
Coming Wednesday: The Top 5