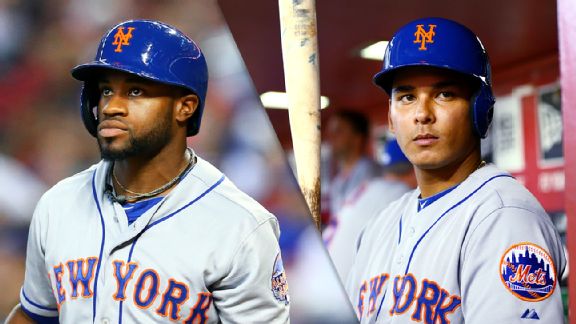 USA TODAY Sports
Eric Young Jr. is expected to become an ex-Met on Tuesday, while Ruben Tejada appears safe at the non-tender deadline.The Mets are likely to cut loose one player at Tuesday's non-tender deadline, with Eric Young Jr. appearing highly vulnerable and Ruben Tejada appearing safe, according to team insiders.
Young would be projected to earn roughly $2.25 million through the arbitration process. According to sources, the Mets believe they can get comparable production from a fifth-outfielder type for a lower salary by either using a young player or by signing a free agent for a lower salary.
The outfield already is set to include Michael Cuddyer, Curtis Granderson and Juan Lagares as the regular starters, with Kirk Nieuwenhuis likely to make the team because he is out of options. The Mets are considering rounding out the outfield with a righty bat via free agency such as Jonny Gomes or Ryan Ludwick, whom they view as an upgrade over Eric Campbell.
With the Mets having not yet secured a shortstop and Wilmer Flores penciled into the role at least for now, Tejada is viewed as valuable as a backup middle infielder. His projected $1.7 million salary is in line with what the Mets would have to spend to replace him.
The Mets' non-tenders at recent deadlines have included Justin Turner last year and Mike Pelfrey in 2012.
The Mets likely will go into January before addressing their shortstop situation, waiting to see if teams such as the Mariners and Diamondbacks have reasonable demands for young shortstops (Brad Miller, Chris Taylor, Didi Gregorius) or if a free agent such as Jed Lowrie remains jobless and will come on a team-friendly deal.
The team also remains interested in adding the righty-hitting upgrade over Campbell (Gomes/Ludwig type) and bringing in a lefty reliever to complement Josh Edgin.
GM Sandy Alderson has acknowledged his preference is to trade a starting pitcher from the group that includes Jonathon Niese, Dillon Gee and Bartolo Colon before spring training.
Young, 29, hit .229 with one homer, 17 RBIs and 30 steals in 36 attempts in 280 at-bats in 2014. He had a .299 on-base percentage.
Tejada, 25, hit .237 with five homers, 34 RBIs and a .342 on-base percentage in 355 at-bats.