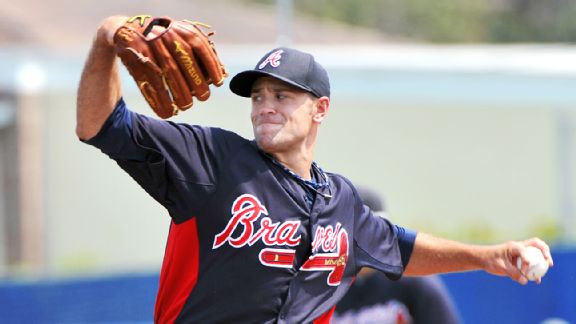 Al Messerschmidt/Getty Images
Newest Met Sean Gilmartin is a former first-round pick of the Atlanta Braves.SAN DIEGO -- The Mets added to their competition for a left-handed relief role, selecting 24-year-old southpaw Sean Gilmartin in the major league phase of the Rule 5 draft.
Gilmartin, a former first-round pick out of Florida State by the Atlanta Braves, had been traded to the Minnesota Twins last December for Ryan Doumit.
Gilmartin went a combined 9-7 with a 3.71 ERA in 26 starts between Double-A New Britain and Triple-A Rochester last season. Lefty batters hit .201 against him (30-for-149) in 2014, although Sandy Alderson said the Mets do not particularly view him as a lefty specialist. Gilmartin will audition in a relief role for the Mets.
He will need to stick with the team at the big-league level for the entire season to officially become Mets property. Otherwise, he must be offered back to Minnesota.
"We don't look at him strictly as left-on-left," Alderson said. "But we like his athleticism. We like his makeup. We think he's got a chance to pitch against righties and lefties. ... Obviously we're looking for more depth and more competition. So I think this is a plus for us."
The Mets lost right-hander Logan Verrett to the Orioles in the major league phase. They also lost four players in the minor-league phase: right-hander Greg Peavey (Twins), catcher Cam Maron (Reds), infielder Juan Carlos Gamboa (Padres) and right-hander Randy Fontanez (Dodgers).
"If there's anything unexpected it's that we didn't lose more out of the minor-league phase," Alderson said. "... We're a little leaner as an organization now than we were a few minutes ago."