NEW YORK -- The prospect of Bobby Parnell as Mets closer did not dampen Jenrry Mejia's spirits.
Mejia, who recorded 28 saves in 2014, said he would be fine if he is setting up Parnell next season.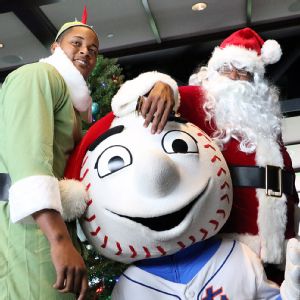 Adam Rubin
Elf Jeurys Familia, Mr. Met and Santa Jenrry Mejia entertained schoolchildren at Citi Field on Tuesday.
Terry Collins has indicated it's Parnell's job to lose, although it's worth noting that Parnell is expected to spend the first few weeks of the season on the DL, in the final stages of his return from Tommy John surgery.
"They put me in the closer's job. I did my job," Mejia said Tuesday, after playing Santa Claus for schoolchildren at Citi Field. "Whatever job they give to me, I've got to be there to help my team. I can throw the seventh inning, eighth inning, ninth inning, wherever. I've got to be ready to play the game. That's all. Mentally it's the same thing -- just come here and do my job.
"I feel happy to see Bobby Parnell getting ready, because we're going to have a more strong bullpen -- Bobby Parnell, [Jeurys] Familia, [Vic] Black and everybody. That has to make me feel happy, because all of my friends are going to be healthy."
Familia, who played an elf Tuesday, as well as Mejia underwent hernia surgeries after the season. Both indicated they are doing fine, although neither will pitch in winter ball. Mejia suggested he would report to Port St. Lucie, Florida, for spring training early -- likely in January.
"I'm pushed back a little bit," Mejia said about his offseason workouts.
Said Familia: "I felt it in the second half a little bit. I told [trainer] Ray [Ramirez], and he said maybe you're tired or something. ... But when I started working in the Dominican [in the offseason] I started feeling it."