PORT ST. LUCIE, Fla.
FIRST PITCH: So, do the Yankees have any numbers left for their actual players? (More below.)
It's now two days until Mets pitchers and catchers officially report on Thursday, but it's nearly a full house already at the Mets complex.
Tuesday's news reports:
• Dillon Gee has not been traded, so he began working out Monday at camp. There are no active discussions with other teams. A team insider told ESPNNewYork.com that the Mets are willing to trade Bartolo Colon or Gee in spring training if another club has an injury. Otherwise, Gee likely is headed to long relief. Gee said he would do whatever he is asked, but he really, really wants to be a starter. (Watch video here.) Read more in the Post, Daily News, Times and Newsday.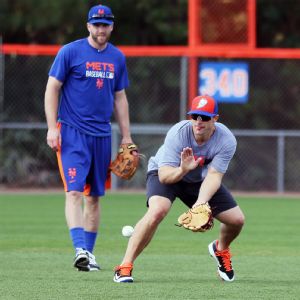 Adam Rubin
David Wright fields a grounder during Monday's voluntary workout in Port St. Lucie.
• SNY officially announced Nelson Figueroa as Bobby Ojeda's successor as in-studio analyst on the pregame and postgame show. That did not sit well with comedian Jerry Seinfeld, who tweeted his displeasure.
Speaking about his experience as a former player and how that will affect his approach, Figueroa told Neil Best in Newsday: "I think they'll respect that I'm someone who's gone to battle and been in the trenches and knows what it's like to be on the players' side and pick up the newspaper and read when you're not doing well. I think I'll be able to offer some insight as to why, maybe in a different way. I won't just criticize and jump on top of them and kick somebody while they're down."
Read more in the Post and Daily News.
• One gambling web site has set the Mets' over/under for wins at 81½. Heck, that would at least snap the Mets' streak of losing seasons at six. That's currently tied with the Houston Astros for the longest active skid in the majors.
• The Yankees will retire the numbers of Bernie Williams (51), Jorge Posada (20) and Andy Pettitte (46) this season. Former Mets manager Willie Randolph will be honored with a plaque in Monument Park at the Stadium, too. After those ceremonies, the Yankees will have retired 22 numbers. And once Derek Jeter's No. 2 officially goes out of circulation down the road, all the single digits will be unavailable.
The Mets, meanwhile, have retired only one players' number: Tom Seaver's 41, back on June 24, 1988. Managers Casey Stengel (37) and Gil Hodges (14) also had their numbers retired.
Columnist Kevin Kernan in the Post advocates for the Mets retiring Mike Piazza's No. 31. Writes Kernan:
The Yankees have legacy players and they are not afraid to promote that legacy, even if there is a PED past as in Pettitte's case. The Mets, meanwhile, sit it out.
They ignore their past, even when it's staring them right in the face. Sure, the Mets don't have 27 titles, but Mets fans have heroes. Mike Piazza should have his number 31 retired by the Mets in 2015. It should have been retired two years ago when Piazza was inducted into the Mets' Hall of Fame.
• Mike Vorkunov at NJ.com tries to contrast Michael Cuddyer's power potential at Citi Field versus his former home, Coors Field in high-altitude Denver.
• From the bloggers … Blogging Mets is just not that into spring training. … Mets Report suggests team officials should be in no hurry to trade Gee.
BIRTHDAYS: Roger Craig, who had 46 combined losses for the Mets in 1962 and '63, turns 85. ... Former reliever Juan Padilla is 38. ... Brandon Brosher, a 36th-round pick in 2013, turns 20.
TWEET OF THE DAY:
Also why is every Mets beat writer a Rangers fan except @AdamRubinESPN ?

— Lisa ❄️ (@isleschick) February 17, 2015
YOU'RE UP: Which number should the Mets retire, if any?