PORT ST. LUCIE, Fla.
FIRST PITCH: So A-Rod issued a handwritten apology? Well, all right then.
At Mets camp, it's now one day until Thursday's official report date for pitchers and catchers, but most everyone already is here. The only notable exception among hurlers: Bartolo Colon.
Colon has been working out in the town where he was born: El Copey, in the Dominican Republic, in a baseball stadium he built for the community, which cost roughly 100 million pesos (about $22.3 million), according to the Spanish-language newspaper Hoy.
There is a forecast of rain in the morning in Port St. Lucie, with a modest high of 66 degrees.
Wednesday's news reports: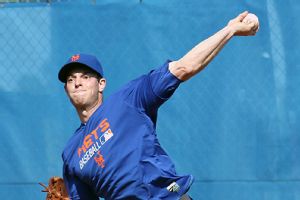 Adam Rubin
Long Island native Steven Matz throws off a mound Tuesday morning in Port St. Lucie.
• WOR has offered its pregame and postgame host job to Illinois native Wayne Randazzo, sources told ESPNNewYork.com. The role will include fill-in play-by-play. Randazzo would succeed Seth Everett, who held the role last season, after WOR obtained Mets radio rights.
• Bobby Parnell is due to address the media on Wednesday about the final stages of his rehab from Tommy John surgery. A source told ESPNNewYork.com that while there is no precise date for activation, Parnell is expected to open the season on the disabled list and should only miss the opening two to three weeks.
At least until Parnell returns, Mejia should remain the closer, with assistance from Jeurys Familia and Vic Black. Mejia, though, indicated he is fine with any relief role once Parnell returns.
Black had a miserable spring training last year and pitched himself off the Opening Day roster. Now, feeling secure after a strong close to last season, he expects better results during 2015 Grapefruit League play.
Read more on the bullpen in the Post, Record, Daily News, Newsday and NJ.com.
• From the bloggers … Faith and Fear fondly recalls how spring training used to be communicated to the fans. … Mets Report says don't forget about Ed Kranepool when considering Mets retired numbers. … Blogging Mets is begging the Mets for clarity on its retired-numbers policy.
BIRTHDAYS: Shawn Estes, who threw behind Roger Clemens when the Mets had a chance for retribution, turns 42. ... Seton Hall product John Valentin is 48. ... Kevin Tapani is 51. ... Jeff McKnight is 52. ...Prospect Darwin Frias is 23.
TWEET OF THE DAY:
RT @FigSNY: @JerrySeinfeld hoping you'll give me a chance to change your mind about me. Absolutely! On your side Fig Nelsons! #overojeda

— Jerry Seinfeld (@JerrySeinfeld) February 18, 2015
YOU'RE UP: Who should close for the Mets once Bobby Parnell is activated from a season-opening DL stint?