PORT ST. LUCIE, Fla. -- Bobby Parnell indicated that he has not been promised anything directly by manager Terry Collins. Still, Parnell expects to assume his former closer's role immediately after being activated from a season-opening stint on the disabled list.
Parnell went down on Opening Day last season with an MCL tear in his right elbow. He underwent Tommy John surgery last April 8 and missed the remainder of the season, creating a vacancy for Jenrry Mejia ultimately to emerge as a capable closer.
Collins has suggested during the offseason that the closer's job should revert to Parnell when he is ready. Parnell doesn't expect to need to be eased back into the role at the major league level, either.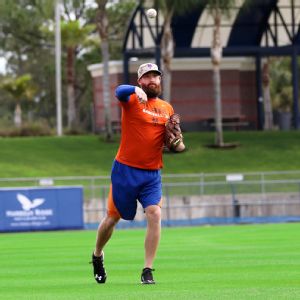 Adam Rubin
Bobby Parnell tosses on Wednesday at the Mets' spring-training complex."The ultimate goal when I go up there is to close," Parnell said Wednesday at Mets camp.
Parnell, 30, again will earn $3.7 million this season. He is eligible for free agency next winter.
A team source estimated Parnell may only spend the opening two or three weeks of the season on the DL, although that is fluid and depends on his reaction to ramping up.
"Obviously I want to be there at the beginning of the year. But, more importantly, I want to be there at the end of the year," Parnell said. "If they feel like missing the beginning of the year is going to help me be there at the end, and be solid at the end, and help with the playoff push, then I'm all aboard on that. ... Don't get me wrong: I want to be there Opening Day and be there from Day 1. Don't think that I'm trying to not get there. I guess what I'm saying is I'm OK with them holding me back because I think that's what's best for the team."
Although not close to full throttle, Parnell on Wednesday threw off a mound for the third time since surgery. He is only a couple of days behind other pitchers right now, but will be slowed down under the assumption that he will open the season on the DL. His next time off a mound is scheduled for Sunday.
"I don't think there are any velocity check marks or anything like that," Parnell said. "I think it's just how you feel today. I spun a couple of curveballs today, which were great. That was the first time I've done that off the mound."
Parnell recorded 22 saves in 26 chances in 2013, but did not pitch after July 30 of that year because of a herniated disk in his neck that ultimately required surgery. So he actually has appeared in only one major league game in the past 19 months -- last year's Opening Day.
"I miss it big time," Parnell said. "That's where kind of my thinking comes in. It's been a year and a half. I feel like I still can pitch in the big leagues, obviously. But it's going to be some adjusting from the year and a half of taking it easy. I want to ease into it [in camp] and make sure my body is ready for it instead of just jumping into it full-fledged."
As for the 2013 neck issue, Parnell said he mostly has been free of continued issues.
"When it gets colder outside, I get a little stiff, just like any other injury you've had in the past," Parnell said. "Other than that, I have full range and am able to do whatever I want."