PORT ST. LUCIE, Fla. -- Jonathon Niese opened last season on the disabled list, officially with inflammation in his left elbow. Truth be told, he said Thursday as Mets pitchers and catchers officially reported, he probably should have missed the season's opening month rather than make his season debut April 6.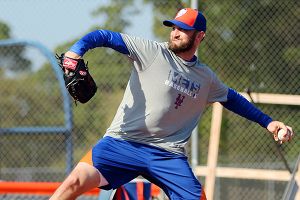 Adam Rubin
Jon Niese throws off the mound this week in Port St. Lucie.
"There was a sharp pain in there," Niese said about a knife-like sensation in his shoulder. "I don't know if I tried to rush into it without properly going through my long-toss program to get it in shape. I think that's what it was. I think I got off the mound way too early, before I got my arm in shape, and kind of screwed things up in there. ... I probably should have -- could have -- taken the first month off last year and gotten it right. Hindsight is 20/20."
Niese also went on the DL in July with a shoulder strain -- his fifth DL trip since 2008.
The southpaw nonetheless said Thursday that he has no concerns now about his shoulder, citing much better preparation for camp than a season ago. Niese spent plenty of time in Florida as opposed to his native Ohio this winter.
"I haven't been this confident with my arm in probably three years," Niese said. "I feel really good. My long toss, I feel a lot stronger."