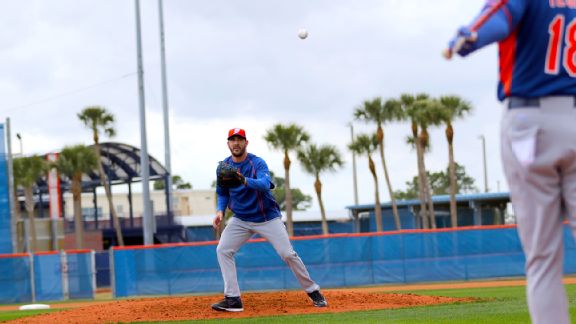 Adam Rubin
Matt Harvey fields a grounder Saturday off the bat of Tim Teufel at Mets camp.PORT ST. LUCIE, Fla. -- Terry Collins did not extinguish the possibility that Matt Harvey will pitch the home opener against the Philadelphia Phillies. But the manager strongly implied that would not be Harvey's first start back from Tommy John surgery.
"He's going to be in those first five guys, I'll tell you that," Collins said Saturday.
Asked if that meant Harvey would pitch one of the first five games of the season, Collins replied: "Yes."
The Mets open the season April 6 at D.C. After an off day, they then play two more games at Nationals Park and three games in Atlanta before the April 13 home opener.
Harvey could start Game 2 of the season against the Washington Nationals and still be on the proper rest for the Citi Field opener five days later.
Collins added that he did not plan to skip Harvey early in the season to curtail innings, although six-inning, 85-pith starts may happen sometimes.
"He will not be skipped early," Collins said. "This kid has worked way too hard to get back on that mound to skip him early."