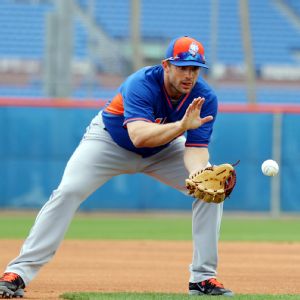 Adam Rubin
Captain David Wright fields grounders Saturday in Port St. Lucie.
PORT ST. LUCIE, Fla. -- Terry Collins is convinced captain David Wright is healthy.
Wright mustered only eight home runs a season ago and did not play after Sept. 8 because of looseness in his left shoulder socket. Wright did not undergo any offseason surgery.
"I've seen him throw. I've seen him hit," Collins said. "I've seen his workout. When you walk up to him, you see the increased bulk that he's put on this winter. You couldn't do that if you're arm, especially your shoulder, is hurting."
Wright is due to address the media Sunday for the first time since arriving in camp.
Injuries have started to catch up with the 32-year-old Wright in recent seasons. He also has missed significant time with a stress fracture in his lower back and a side-muscle injury.