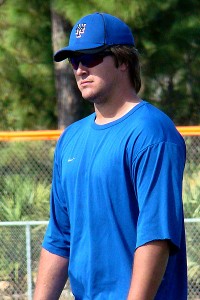 Adam Rubin
Sean Ratliff, pictured in 2012 during his comeback attempt from a serious eye injury, has rejoined the organization as a coach.
PORT ST. LUCIE, Fla. -- Former Mets farmhand Sean Ratliff, whose promising minor-league career was derailed by a serious eye injury, is back with the organization. Ratliff, now 28, will serve as the hitting coach at short-season Kingsport.
Ratliff was drafted by the Mets in the fourth round in 2008 out of Stanford.
He hit .317 with 16 homers and 50 RBIs in 281 at-bats after a midseason promotion to Double-A Binghamton in 2010.
However, the following spring training, a scary incident occurred.
Ratliff, who was standing in the on-deck circle, was struck in the face during a Triple-A game in Jupiter, Florida, on a check swing off the bat of Zach Lutz. The blow broke six bones, nearly fully detached Ratliff's retina and left him immediately fearing he might lose his right eye.
Four surgeries later, Ratliff hoped to pick up where he left off in 2012. But he was forced to call it a career because his vision was not sufficient to compete after going 3-for-22 with Class A St. Lucie.