PORT ST. LUCIE, Fla. -- New hitting coach Kevin Long, who was hired by the Mets after getting dismissed by the Yankees, offered in-depth insights on several of his new pupils Saturday:
• Long said Curtis Granderson can be a capable leadoff hitter.
"When I've seen Curtis, and I've seen him at a very high level, he's able to get on base," Long said. "He's able to drive the ball. Certainly the top of the order, those guys are going to get more at-bats throughout the year. Let's say he hit sixth. So he'd probably lose, I don't know, 70-80 at-bats to the guy who hits leadoff. ... There are some other options. So that's not etched in stone. We'll see how this plays out. Terry ultimately is going to have the final say-so on that. But Curtis has done it before. He's capable of doing it."
The alternative, and apparent preference for the leadoff role, would be Juan Lagares.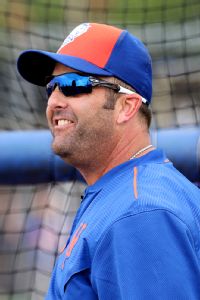 Adam Rubin/ESPN.com
Kevin Long
"Juan is talented. I've noticed that," Long said. "And I'm excited about this player. He's got a nice demeanor about him. He's confident. Obviously he's going to have to hone in on the strike zone -- and take these chases and swings out of the zone -- and be able to lay off some pitches and determine what's a pitch that he can do damage to. ... Certainly laying off is going to do what? It's going to increase his on-base percentage. I think with Juan it's more: Can we maximize his ability to get on base? So he's got some work to do."
Long used Robinson Cano as an example of someone he worked with to get better plate discipline.
"Instead of trying to get there all at once, you gradually get there," Long said. "So we'll do strike-zone stuff where we'll say, 'OK, let's just swing at pitches middle [or] middle-away. Anything in, take it. Instead of trying to cover the whole strike zone and expand it.' And you can do it early and you can do it in plus counts and a lot of times that will help as well. He's got a good swing. And he's always had the ability to get hits. He finds a way. I think he hit .285. The major league average is .250. So he's 35 points up there. I think the point we're looking at is: What is his on-base [percentage]? It's probably .315-.320. If we can get that number up to .350-.360, you've gained on it quite a bit."
With Granderson, Long added: "We're going back to the blueprint of when he was with the Yankees. There are a couple of minor things that we're working on. One is getting his hands into a consistent position and getting him to feel the consistency that he had, the shortness to the ball, obviously the compact swing that he had, the explosiveness. It's all in there."
• Asked whether David Wright could not generate power a season ago because of the shoulder issue, Long said: "He's a tough one for me to give you an honest evaluation of. I wasn't here. I didn't live it. I didn't see it. I couldn't see his face. I don't know what kind of workload he was able to do or not able to do. Certainly I can tell you that if I've got a shoulder issue and I need to get extension, at some point it's going to pinch. It's going to hurt. So if you saw him cutting off his swing and not getting through baseballs, or not driving the ball, you can put two and two together and probably say that had something to do with it."
Long noted the similarity between how Carlos Beltran's elbow issue affected him with the Yankees and how Wright may have been impacted by the shoulder.
"I was there and I lived that," Long said about Beltran. "His workload went down. He wasn't able to get extension and get through the ball. But what did Beltran do and what did David Wright do? They played. And when you play, and you're playing banged up, you're subject to some criticism. Obviously both of these individuals that we're talking about can handle that and they've had super careers. But it does play into their psyche just a little bit."
• Long raved about Daniel Murphy.
"Some guys have a lot of things to work on. Other guys, for instance Murphy, you look at his swing and you go, 'Man, you know why he's had success.' He's very simple. He gets himself in a good position. Is there more in there? We're going to talk about maybe doing a little more damage to the ball. If he does that, I think he'll walk at a rate that would be average at the major league level. Right now it's below average. It's something we've talked about and we've addressed."
• Asked if Travis d'Arnaud's performance after returning from the demotion was better than early in the season simply because he was standing closer to the plate, Long mentioned d'Arnaud's confidence level as another factor.
"When I looked at Travis, and I looked at him early on, it was almost like the competitiveness was out of him," Long said. "He was thinking too much. He wasn't trusting his ability and probably what had gotten him to the big leagues. Maybe he didn't know if he could compete at this level. I think when he went back to Triple-A, he said, 'You know what? I'm going to go back to the way I hit.' One of those things was getting on the plate. Getting on the plate certainly helped him a great deal. But I could see his confidence level rise. I could see his swing start to come together. Really, I've done very little with Travis -- almost nothing -- other than keeping his confidence level up and his spirits up and letting him know what you did last year when you came back was enough and was terrific."
• Asked about Lucas Duda, Long initially joked, "Who did you say? Is he here?" That was a reference to Duda being idle because of a strained left intercostal muscle.
More seriously, Long said about Duda's ability to hit left-handed pitching: "All lefty-on-lefty stuff or righty-on-righty stuff is angles. So we'll get different angles. Obviously he's had some success here. He's had some success in the minor leagues hitting lefties. So he can do it. It's in there. When he's able to swing, we'll get back to doing some lefty-on-lefty stuff and see if we can get him a little more consistent there. Obviously we're talking about a 30-home run guy. There are not many of those in the major leagues. The more we can get Lucas in the lineup, the better we're going to be."
Collins has suggested that the more Duda displayed power, the more pull-conscious he became rather than using the whole field.
"Using the whole field will certainly get that average kind of where it needs to be," Long said. "But, if I'm not mistaken, I think he has power to all fields."
• On the Mets' performance overall in 2014, Long said increasing the batting average is a priority. Still, he noted the object is to score runs.
"One thing the Mets did very good last year is they were able to get on base," he said. "And if you look at their average, it was where? It was way down. You look at that. But you look at their runs scored. Where were they in runs scored? Right in the middle of the pack. Well, the reason they were in the middle of the pack is because of their ability to control the strike zone and get on base. So what needs to happen here is we need to get more efficient with the damage we do."
Asked if the Mets are better than last year's .239 team average, which ranked 28th in the majors, Long said: "You are what you are. We'll see if we can get that number to increase. At the end of the day, it's really about scoring runs. We need to maximize our ability to score runs. There's some intangibles that come along with that. There's baserunning. There's situational hitting."
• Finally, on Bartolo Colon's hitting, Long lightheartedly said: "Bartolo's got some work to do. He's not too vested into putting that much time into getting his swing where it needs to be. He said he had two hits last year. I said, 'How about four this year?' He said, 'How about three?' That's where we're at with Bartolo."