PORT ST. LUCIE, Fla. -- Sandy Alderson had even bolder ambitions for his invitation to Billy Bean to attend Mets camp. The Mets GM wanted Bean, a former major leaguer who concealed his sexual orientation until after his playing career, to play in a Grapefruit League game for the club.
Bean, 50, declined, not wanting to draw that much attention to himself. Still, Bean donned a Mets uniform Tuesday at camp and went through morning workouts with players. Earlier, he addressed the team. He has been invited to speak at a handful of camps during spring training, but the Mets took the further step of putting him in uniform.
Bean had been named MLB's first "ambassador for inclusion" last summer by then commissioner Bud Selig.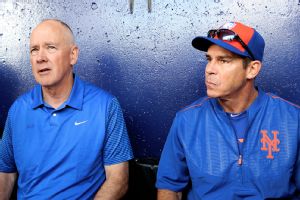 Adam Rubin
Sandy Alderson and Billy Bean address the media on Tuesday morning.
"It's not just about being gay," said Alderson, who first met Bean in November. "It's about having any kind of personal issue that makes it difficult to perform and enjoy the game. In a way, he just represents one aspect of a larger effort by Major League Baseball to ensure that players are able to focus on the game and get the kind of advice or support that they need in their personal lives."
Alderson polled several players earlier this winter about Bean being in uniform with the Mets. The GM said the players "totally embraced it."
"We had more grandiose plans," Alderson said. "We thought about Billy even playing in a game, because for us, getting him in a uniform, images are powerful. And in a way it's a sort of symbolic embrace of bringing him back into the major league family. So that was our idea. The players were totally behind it. We're happy he's here."
Bean played parts of six seasons with the Detroit Tigers, Los Angeles Dodgers and San Diego Padres. He left baseball prematurely because he was uncomfortable concealing his sexual orientation.
Asked about his message to players, especially since he may encounter those with strong religious beliefs who do not embrace his lifestyle, Bean said: "What's important is that if we have one or two people on a team that we might have exposed them to something they hadn't thought about before. I'm not here to change anybody or tell them that they're wrong. This is our country. We're allowed to be who and what we want. But I think the important thing is understanding the big picture -- that if you are a player on the Mets or in a big-league uniform, there's a huge responsibility that goes with that. And I think they can understand that regardless of what their personal opinion is of me. I can't be everybody's best friend."
Alderson said one strong motivation for bringing in Bean was the GM's observations of how gay baseball player Glenn Burke's life ended. Burke played for the A's in 1979, before Alderson's hiring with that organization.
"When I was in Oakland, he was homeless in San Francisco," Alderson said. "We reached out to him from time to time, largely on the insistence of a woman member of our staff, for which I give tremendous credit. But it wasn't enough. He died on the streets. He was homeless and died on the streets of San Francisco as an outcast. So, from my standpoint, that can't happen. It never should have happened. It can't happen again. Of course, that's an extreme case."
Said Bean about Alderson and the Mets: "The leadership that they're showing, I'm humbled by it and I'm excited to do it."