PORT ST. LUCIE, Fla.
FIRST PITCH: There will be a wee bit extra interest in Friday's Grapefruit League game between the Mets and Detroit Tigers at 1:10 p.m. at Tradition Field (SNY/WOR).
Matt Harvey is scheduled to appear in his first game since Aug. 24, 2013. The Mets are targeting 35 pitches over two innings for Harvey's performance opposite Tigers left-hander David Price.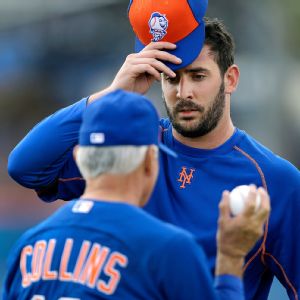 Jeff Roberson/Associated Press
Matt Harvey Day is back!
Terry Collins plans to test a potential everyday lineup, too -- with the exception of Lucas Duda, who has just started hitting off a tee after dealing with a side-muscle strain. That should mean a 1-2 combo of Juan Lagares and Curtis Granderson, followed by David Wright, debuting Michael Cuddyer and Daniel Murphy. Duda normally would slot into the No. 5 hole, dropping Murphy to sixth.
Noah Syndergaard, Sean Gilmartin, Jenrry Mejia and Jeurys Familia also are scheduled to pitch for the Amazin's.
One special occurrence this weekend: The sons of slain NYPD officer Rafael Ramos -- Justin and Jaden -- will be in uniform as batboys beginning Friday. Wright reached out to the brothers, who are Mets fans, after the December tragedy in which Ramos and partner Wenjian Liu were ambushed while sitting in their patrol car in Brooklyn.
Friday's news reports:
• Bartolo Colon tossed two perfect innings and John Mayberry Jr. and Eric Campbell homered. But the Washington Nationals rallied from a four-run deficit and beat the Mets, 5-4, Thursday at Space Coast Stadium in Viera on Kila Ka'aihue's two-run homer against Cory Mazzoni in the seventh.
Read the Grapefruit League recap in the Post, Daily News, Times and at NJ.com and MLB.com.
• Collins gives the nod to the Nats' rotation, although he is more than happy with his own collection of starters. Read more in Newsday and at NJ.com.
• On Harvey's regular-season workload, pitching coach Dan Warthen tells columnist John Harper in the Daily News: "We're going to let him get to around 185 innings and then see where we are." Sandy Alderson again dismissed a six-man rotation, this time to Harper.
SNY's Ron Darling is expecting superhuman stuff from Harvey this season. "I expect pure dominance and excellence," Darling told Justin Terranova in the Post. "I expect him to be the righty [Clayton] Kershaw, and if I didn't expect it, I wouldn't want to watch the games. That's how excited I get when I know he's out there. That's a lot of pressure to put on him, but that's how it goes."
(Darling, by the way, makes his play-by-play debut Saturday. Gary Cohen will be away for Seton Hall basketball duty.)
Harvey tells Matt Ehalt in the Record he is undeserving of starting on Opening Day in D.C. The Mets have excluded him from consideration. "I missed all of last year," Harvey told Ehalt. "There are guys who have accomplished more and are more deserving of starting the next year. If I had pitched last year and pitched like I did in 2013, we would be speaking of something differently."
Read more on Harvey's first game in more than 18 months in the Post, Newsday, Record and at NJ.com and MLB.com.
• Jon Raj, a Mets fan and gay father, writes an open letter to Murphy at the Huffington Post. Writes Raj:
Even though I am extremely disappointed and hurt by your remarks, I am grateful that you spoke your mind, as it has started a national conversation. The discussions taking place today on social media, in bars and churches, and around the dining room table are exactly how GLBT progress is achieved.
I know it is hard moving to an unfamiliar position (think about your transition to second base), but with faith, openness and commitment, positive change can truly happen.
• Duda had hard-hit balls at a rate of 21.8 percent last season. That ranked seventh in MLB among hitters with at least 450 at-bats, Michael Salfino writes in the Journal.
• Jacob deGrom is working on his curveball, he tells columnist Kevin Kernan in the Post.
• Jimmy Rollins again praised the Mets, this time to CBSSports.com. Said Rollins: "I've played against the Mets, and seen them go through what the Phillies are going through. The arms they have are impressive, a healthy Matt Harvey, deGrom, [Zack] Wheeler. That's how you rebuild -- run prevention. Their future seems bright."
Rollins reiterated that he would have considered being traded to the Mets. He would not have considered the Yankees because he did not want to succeed Derek Jeter. Still, Rollins made it clear to the Philadelphia Phillies early in the winter that he would only go to the Los Angeles Dodgers and never had to expand his list to consider the Mets.
• From the bloggers … Mets Report suggests Murphy should not be vilified for expressing his viewpoint. … Blogging Mets wonders if we have already seen the best of Granderson. … NY Mets Life examines who should start on Opening Day. … LegendsOnDeck.com spotlights right-hander Chasen Bradford.
BIRTHDAYS: Former Mets coach Cookie Rojas was born on this date in 1939.
TWEET OF THE DAY:
RT @magic_mets: will the mets game be on TV tomorrow? pic.twitter.com/Q3huZXbGLe

— Adam Rubin (@AdamRubinESPN) March 5, 2015
YOU'RE UP: Will Matt Harvey dominate the Tigers?