PORT ST. LUCIE, Fla. -- With Kevin Burkhardt having moved on to a national role at Fox, SNY/WPIX had a void for a spring-training play-by-play man to fill in for Gary Cohen. And Ron Darling has volunteered for the role.
The 54-year-old Darling, regularly a color commentator, will work Saturday's Mets-Braves game on WPIX at 1:10 p.m. as the play-by-play man, with ex-teammate Keith Hernandez alongside providing color.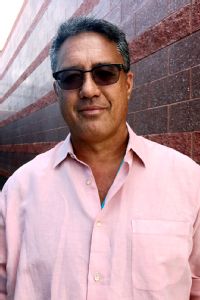 Adam Rubin/ESPNNewYork.com
Ron Darling on Friday at Mets camp.
Cohen's contract does not call for him to do the full spring-training slate. He has Seton Hall basketball responsibilities on the radio, too.
"I'm really excited about it," Darling told ESPNNewYork.com. "The genesis of it is that we lost Kevin, who was one of the most talented people we've had at SNY. Losing him was a big blow. So there was a void there. With my advancing age, I think versatility is a good thing. So I asked [SNY senior VP] Curt [Gowdy] if I could have a shot at it in spring training. He said yes.
"Now, Gary does 163 games a year, so you're not going to get a chance to do it [in the regular season]. But I think it's good for me to do it and see what it is on the other side. I'm going to spend a lot of time in spring training in the truck also seeing the production side of it."
Although play-by-play is a relatively new experience, Darling has done it a couple of times.
"The first two times I've done it, it's because people were sick -- I was asked literally five minutes before the broadcast to do the play-by-play," he said. "I'll have no excuses tomorrow. I'll be fully prepared. Just, hopefully, English will come out at some point. What makes it easier is I'm doing it with Keith -- a good buddy.
"I've equated it to two things: Either we're going to be two guys that are kind of sitting at a bar watching the game. But since we're not, we might be those two crusty old guys from the Muppets on the balcony. I don't know which one it'll be. I'm just happy to be doing it with Keith."