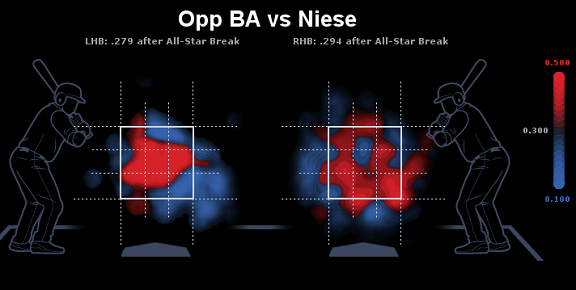 Jonathon Niese struggled in some regards after returning from injury.We'll run through most of the Mets roster for 2015 with a look at the key stats to know heading into this season.
2014 recap
Jonathon Niese's season got off to a nice start. He had a 1.82 ERA through six starts after a run of four straight starts allowing one earned run or fewer.
But Niese hit a bump after he went to the sidelines for 2½ weeks with a shoulder injury just prior to the All-Star break. The injury explained why Niese's average fastball velocity dipped from 90 mph to a less-impactful 88-89.
You could make a case using the numbers in the chart on the right that Niese wasn't pitching as well as it looked when he was going good and wasn't pitching as badly as it looked when he was going bad. In the end, it evened out to an average season and a 3.40 ERA.
Jonathon Niese
National displeasure
Niese entered 2014 with a 3-0 record against the Washington Nationals. But that perfection evaporated with three losses and a 5.82 ERA in three starts against them in 2014.
The samples are small, but a number of Nationals have good numbers against him, including Ryan Zimmerman (7-for-17) and Danny Espinosa (7-for-18).
Helping himself would come in handy
The struggles most of the Mets pitchers had as hitters seemed to be contagious. After hitting a combined .213 in 2012 and 2013 (with a .200-plus batting average each season), Niese went 5-for-55 (.091) in 2014.
What2Watch4 in 2015
Can Niese stay healthy? If he does, the Mets will have some nice depth in their rotation, since Niese figures to be the No. 3 or No. 4 starter in the pecking order.
Niese has never made 30 starts in consecutive seasons. He followed up his first two 30-start seasons with a 26-start season and a 24-start season. He's also never thrown 200 innings in a season, though he has surpassed 185 twice.
It also would be a boon to the Mets if Niese could regain some of the velocity he lost last season.
"Last year I was just trying to find an angle where it didn't hurt," the southpaw said. "This year I feel 100 percent healthy, so I'm able to actually work on my mechanics and have proper mechanics [this spring]."