PORT ST. LUCIE, Fla. -- Zack Wheeler had the most pitches per plate appearance among qualified pitchers in the National League last season at 4.17. His first Grapefruit League attempt to refine his control went poorly.
After a perfect, 10-pitch first inning Monday, Wheeler hit a wall in the second. He hit two batters, walked two others and threw 37 pitches in the frame before manager Terry Collins pulled him with two outs and the bases loaded. Prospect Chasen Bradford allowed all three inherited runners to score, so Wheeler was charged with six earned runs in 1 2/3 innings.
The Miami Marlins ultimately beat the Mets 13-2 at Tradition Field.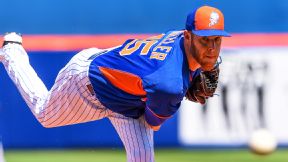 Brad Barr/USA TODAY Sports
Zack Wheeler was charged with six runs in the second inning Monday.Wheeler's line: 1.2 IP, 2 H, 6 R, 6 ER, 2 BB, 3 K, 2 HBP.
Wheeler actually could have been out of the second inning with only two runs having scored. Instead, first-base ump Mike Estabrook ruled ex-Met Jordany Valdespin beat out an infield single, although replays suggested otherwise.
"I was happy with the outing overall," Wheeler insisted. "I did hit two batters and walk a couple, but it's still early. The fastball command was a little off. The offspeed was there. It was sharp, and I was throwing strikes with it. That part I was happy with."
Said Collins: "I think the two hit batters, a lot of it was due the fact he's throwing about 96 mph and he was pitching in. He just had balls inside. They couldn't get out of the way of them. But it's not an excuse for the fact that he didn't have his command in the second inning. As we've seen thus far in this camp, when you walk guys, the gates are going to open up."
Wheeler said he could not blame a tight strike zone for his struggles.
"Honestly, it's early for everybody," Wheeler said. "But I was supposed to throw to one side of the plate and it was on the other. That's always hard to call a strike. You and I both know that if you're not consistent, it's harder to get strikes."
Welcome back: Daniel Murphy played in his first game since departing three days earlier with a right hand injury -- the result of getting struck by a pitch from David Price. Murphy went 0-for-2 and played four innings at second base.
Not so special: Southpaw Josh Edgin entered in the third inning to face the lefty hitters Valdespin and Derek Dietrich. They produced consecutive run-scoring triples against the lefty specialist as the Marlins took a 9-0 lead. Collins expressed concern afterward with Edgin's sluggish velocity. … Righty-hitting Avery Romero, the Marlins' No. 5-rated prospect, belted a three-run homer against Rule 5 pick Sean Gilmartin, another southpaw, in the seventh.
Odds & ends: Ex-Yankee David Phelps limited the Mets to one run in three innings. He surrendered a leadoff single to Matt den Dekker in the third and sacrifice fly to Curtis Granderson. … Valdespin (2-for-4) produced three RBIs against his old club.
What's next: The Mets return to Disney for another meeting with the Atlanta Braves. Bartolo Colon opposes right-hander Julio Teheran at 1:05 p.m. ET Tuesday at ESPN Wide World of Sports. Hansel Robles, Buddy Carlyle and Akeel Morris also are due to pitch.
Colon tossed two perfect innings against the Washington Nationals on Thursday in his 2015 Grapefruit League debut. Travis d'Arnaud, who cut his left ring finger Sunday, is on the trip and expected to catch.