NEWARK, N.J. -- The rookie's first start was all the hype going in.
But the veteran he supplanted was all the talk afterward.
Derrick Favors' first NBA start was overshadowed by reserve Kris Humphries' best performance of the season in the New Jersey Nets' narrow 96-94 victory over the Chicago Bulls.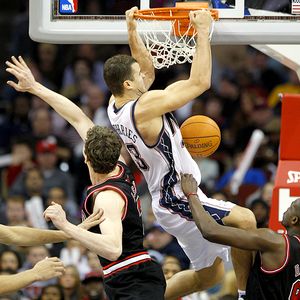 AP Photo/Julio Cortez
The Bulls couldn't match Kris Humphries' energy during his 20-point, 11-rebound night.
Favors finished with seven points in nine minutes. Humphries recorded a season-high 20 points and game-high 11 rebounds in 39 minutes for his 11th double-double, stealing the thunder from the league's youngest player.
"Whatever people's role is, we just gotta accept it and do it to the fullest," Humphries said.
For Humphries, that role used to be starting power forward, the job now held by Favors, who was inserted into the starting lineup prior to the 35th game of the season by coach Avery Johnson.
"This has been planned for some time now for [Favors] to start his first game here in the new year at home," Johnson said before the game. "He's had about 34 games to get some experience coming off the bench and he's played against the Bulls before, so we thought this would be a good game for him to get his first NBA start."
Which meant that for the first time since Nov. 9, Humphries would be coming off the bench.
Asked if his "demotion" gave him added motivation, Humphries, a consummate professional, responded: "I'm motivated, but it's not like there's no anger or anything. I'm always motivated -- especially to play against the Bulls. I struggled against them the last time we played. I also used to play with Carlos Boozer when I was on Utah so I try to compete against him every time."
By the end of the night, though, Boozer was riding the pine. And Humphries was out there, making it happen.
It started early in the second quarter. First it was a jaw-dropping follow-up slam that got the fans out of their seats. Then it was an emphatic alley-oop finish that forced the Bulls to call a 30-second timeout. And from there, Humphries continued his aggressiveness, snagging all five of his offensive rebounds in the first half.
Favors looked good in the limited action he got after his name was introduced among the starters. He got a layup in transition and was playing with a reckless abandon -- until he picked up two early fouls and was saddled to the bench by the 8:40 mark of the first. He played just six of the opening 24 minutes, finally got it going again at the start of the third with a hook and an alley-oop jam, but was whistled for his fourth foul -- a controversial one that could've gone either way.
"I was a little nervous out there at first, but I'm glad I got it out of the way," Favors said. "I gotta fight through it and pick my spots and just be smarter with fouls."
Still, Favors is pleased to be in the starting five. Even if he is the subject of persistent speculation and trade rumors -- specifically involving Denver Nuggets superstar Carmelo Anthony.
"It was was wonderful, really," Favors said. "Coach put his trust in me and I feel like I did a good job."
Humphries did an even better one.
Even if their roles are reversed, the Nets' dynamic duo at the 4 spot remains the same.