NEWARK, N.J. -- After being outscored 32-16 by the Memphis Grizzlies in the first quarter, the New Jersey Nets were in desperate need a lift.
They got one from their bench.
The Nets' reserves combined to outscore their Grizzlies counterparts 56-12 and ultimately came away with their fourth victory in their last five games, 93-88 Wednesday night at the Prudential Center.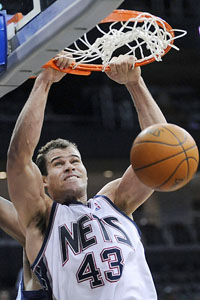 AP Photo/Bill Kostroun
Kris Humphries came off the bench to score 14 points and grab seven rebounds.
Anthony Morrow led the way with a team-high 19 points, while Sasha Vujacic and Kris Humphries each finished with 14 points off the pine.
"Our bench was special," head coach Avery Johnson said. "They were really good tonight. Our starters needed a lift and we've been talking about our bench and them getting their own identity. They take it really personal in practice when they play against the starters, which is really fun to watch now. It was good to see their production. That was an area we thought we could win the battle."
Morrow inflicted much of his damage in the first half, and Vujacic and Humphries ignited the Nets in the second half.
Morrow's 12 second-quarter points helped the Nets stay in the game. They went to the locker room down 53-42, but, if not for Morrow, it could've been worse.
He missed his first three shots from the floor, but ended up connecting on five straight, finishing the first half with 14 points.
"We don't want to tinker with anything," Johnson said of Morrow, who will continue to come off the bench after returning from a hamstring injury which caused him to miss 17 games. "We're feeling pretty good. This was a good homestand for us."
The Nets trailed by eight with 9:12 remaining, but Vujacic ignited an 8-0 run with a 3-pointer that brought the Nets back to even.
Morrow drained a crucial 3-pointer that put the Nets up 84-77 with 3:23 remaining. And Humphries -- aside from playing great defense on Zach Randolph, who went 3-for-8 in the final 12 minutes -- made two key free throws with 2:45 left to keep Memphis at bay.
Humphries had 12 points and five rebounds in the second half on a perfect 5-for-5 shooting and 2-for-2 from the stripe. Meanwhile, Morrow and Vujacic combined to hit six of the Nets' nine 3-pointers.
"We had a full team effort tonight," point guard Devin Harris said. "I thought we got out to a lethargic start and I thought the bench came in the second quarter and really gave us a boost."