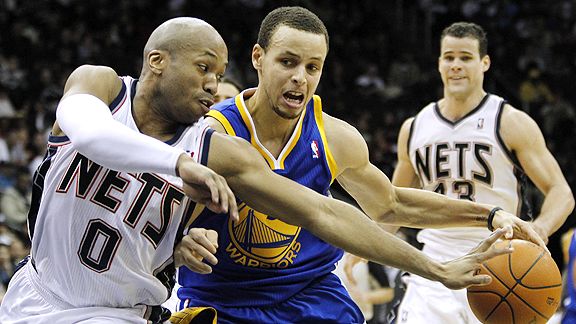 AP Photo/Julio Cortez
Sundiata Gaines (0) didn't give Stephen Curry (pictured) or Monta Ellis room to move.NEWARK, N.J. -- The New Jersey Nets continue to plan for the future.
Sundiata Gaines' focus, however, is on the present.
That's typical in the life of any undrafted journeyman playing on a 10-day contract in the NBA, still trying to fulfill his aspirations of finding a permanent home.
There's no time to worry about tomorrow. Only today.
Of course, if Gaines continues to perform the way he has since signing with the Nets on Feb. 28, his dream of inking a long-term deal might someday become a reality.
On Wednesday night, Gaines played the roll of unsung hero yet again, willing the Nets to their first three-game winning streak since Feb. 2009 in a 94-90 victory over the Golden State Warriors at the Prudential Center.
Maybe his stat line -- five points (2-for-6 shooting), a career-high eight assists and four steals in 24 minutes -- didn't stand out the way superstar point guard Deron Williams' line usually does. But without Gaines' intangibles -- namely the way he defended Monta Ellis (16 points on 7-for-22 shooting) down the stretch -- the Nets would've been 0-for-6 this season when trying to capture three in a row.
"I just wanted to come in and bring energy," said Gaines, who received significant playing time because Williams missed the game to be with his wife for the birth of their fourth child. "Once I got guys going, we started getting back in the flow and playing better. I think I had a solid game."
The Nets didn't necessarily know what they were getting when they brought in Gaines on an emergency basis after backup point guard Jordan Farmar sprained his ankle. Gaines, a 24-year-old Queens native who played his high school basketball at Archbishop Molloy and his college hoops at Georgia, had been known for one thing and one thing only: his game-winning 3-pointer that beat the Cleveland Cavaliers when he was a member of the Utah Jazz last season.
Yet Nets coach Avery Johnson immediately thrust him into action during the fourth quarter of the Nets' 116-103 triumph over the Toronto Raptors in London on March 5. Gaines responded, sparking the Nets with seven points in the final stanza.
Johnson didn't wait that long to put Gaines in Wednesday night. He couldn't afford to. The Nets' offense was stagnant with Farmar running the show, so they turned to Gaines once again late in the first quarter.
Good decision.
He immediately swiped the ball from Stephen Curry at midcourt and raced the other way for an uncontested layup. Then he found Sasha Vujacic for a couple of perimeter jumpers, and the next thing you knew, the Nets were up nine, their largest lead of the game.
Gaines -- who had a game-high plus/minus of plus-21 -- wouldn't make his presence felt again until the second half, when he continued to be a facilitator, disrupter and playmaker in Williams' absence. Of course, it wasn't until the Nets' final offensive possession that Gaines showed why Johnson left him in during crunch time.
Aside from helping hold Ellis to just 1-for-6 shooting in the last period, Gaines came up with an out-of-nowhere rebound off a Vujacic miss with 34.6 seconds remaining that gave the Nets a fresh shot clock.
Talk about basketball acumen.
Ultimately, the Nets didn't score and had to come up with a defensive stand at the other end of the floor to survive. Still, Gaines' ability to come up with a critical play at the most critical of times couldn't be understated. Anyone with any knowledge of basketball understood just how big a play it was.
"I think that was my only rebound for the game," Gaines said. "I'm just happy to get an extra possession."
Although Gaines wouldn't admit as much, he must be ecstatic about earning another 10-day contract, which begins on Thursday.
He may not have a nameplate on his corner locker, but he does have more time to make a name for himself. And that's all an undrafted NBA journeyman can ask for.
"Tonight it was Gaines' assists, his four steals, his defense, his leadership," Johnson said. "It was just terrific."