NEWARK, N.J. -- With 35.6 seconds left, New Jersey Nets point guard Deron Williams let a 3-pointer from the right wing fly without any hesitation.
Swish.
Just like that, Williams had delivered the final blow in the Nets' biggest victory of the season.
Williams' fourth 3-pointer of the game gave his team a seven-point lead and the Nets went on to upset the Boston Celtics 88-79 on Monday night in front of a sellout crowd of 18,711 at the Prudential Center. New Jersey (23-43) has now won a season-high five games; the last time the Nets accomplished the feat was Dec. 28, 2007-Jan. 5, 2008.
The Nets are now 5½ games out of the eighth and final playoff spot in a weak Eastern Conference with 17 games remaining.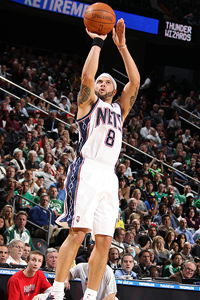 Nathaniel S. Butler/NBAE/Getty Images
Deron Williams hit four 3-pointers, dished out nine asissts and scored 16 points in his return after the birth of his fourth child.
"Deron is a closer," head coach Avery Johnson said. "And I was hoping and praying that he'd close it for us."
Williams did just that. The All-Star -- who missed the previous two games to be with his wife, who gave birth to their fourth child last Wednesday -- capped a 16-point, nine-assist, six-rebound, three-steal performance by draining his first signature big-time shot since being acquired from New Jersey in a blockbuster trade from the Utah Jazz three weeks ago.
"I wanted to make up for London," Williams said of the Nets' March 4-5 overseas visit, which resulted in two victories, one in triple overtime. "I had a couple of chances there but didn't make them. But I love to have the ball at the end of games and just be able to create."
Despite playing with an ailing strained tendon in his right wrist, Williams went 4-for-6 from beyond the arc Monday night. He entered the game just 6-for-27 from downtown in his five previous outings with New Jersey.
Granted, his wrist wasn't hurting him when he attempted, and made, his final 3-pointer of the evening -- the dagger that put Boston (47-18) away for good.
"No, I tweaked it after," Williams said. "And I'm going to continue to tweak it in practice, in games. It won't be fully healed until I sit out for 3-4 weeks like the doctors keep telling me."
Before his key shot, Williams fed center Brook Lopez for a hook shot inside that put the Nets ahead 83-79 with 1:14 left. Overall, the Nets were a plus-nine when Williams was in the game.
"I think we're playing and jelling really well right now for having such a short time together," said Williams, who has been limited in practice because of his injury. "And we're having fun. These games are important, not just because we have a chance to make the playoffs but also for the future as well going forward next year."
Williams said he was impressed by the way his teammates played without him, beating both the Golden State Warriors and Los Angeles Clippers. However, being able to drop the East's best team validates their current hot streak.
"Those four wins were good wins, but they weren't against playoff teams, and this is the best team in the East," said Williams, who is averaging 15.8 points and 14.2 assists in six games for the Nets (3-3). "But this was a tough game. We battled, it was a defensive type game. And we grinded it out."
Williams' night didn't start out the way he hoped. He picked up two fouls just 8:20 into the first quarter, and without him, the Nets were outscored 10-0. They trailed 23-14 after the opening 12 minutes, but Williams came back with reckless abandon in the second, scoring seven points in 11 minutes as New Jersey crept back to within 38-36 at the half.
"It was frustrating because I didn't think either of them were fouls," Williams said. "But eventually I picked it up in the second and carried it into the fourth."
The Nets ended up separating themselves from the Celtics -- going on a 14-1 run late in the third and early in the fourth to take a 12-point lead -- without Williams on the floor. But when they needed big plays in crunch time he was there to provide them, rendering the fact that they shot just 37.7 percent when he was in the game, and 47.0 percent without him, meaningless.
"I thought we competed. I thought we fought hard today," Williams said. "Both teams shot poorly. We didn't shoot well. But we battled and we played defense -- especially down the stretch when we had to."
You can follow Mike Mazzeo on Twitter: @MazzESPN