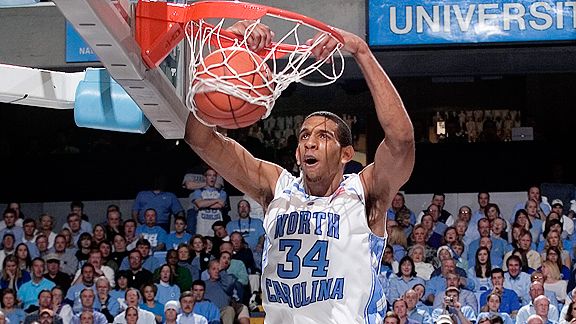 Peyton Williams/Icon SMI
Brandan Wright was the ACC Rookie of the Year for North Carolina in 2007.
Nets forward Brandan Wright -- who would be just a year removed from college at North Carolina had he not gone pro after his freshman season -- has been following the Tar Heels closely throughout their 2010-11 season, watching them whenever he can.
Second-seeded UNC will take on Marquette on Friday in the Sweet 16, at the home of Wright's Nets, the Prudential Center in Newark, N.J. If the Tar Heels win that game, they'd face the winner of the other East Regional matchup between No. 1 Ohio State and fourth-seeded Kentucky for the right to advance to the Final Four in Houston.
"I think they have a good chance to get there," Wright said. "If they continue to play the way they're playing -- getting the ball inside, keeping things at their pace and playing good defense -- they'll be all right."
UNC nearly lost in the third round but was somehow able to emerge with an 86-83 victory over Washington to advance.
"I'm not concerned with how they played that game," said Wright, who was unable to watch because the game coincided with the Nets-Wizards matchup Sunday afternoon. "A win is a win. That's all I'm worried about. Whether it's by one or 20, it is what it is, a win."
Six players from North Carolina's 2006-07 team were drafted to the NBA:
During Wright's freshman season in 2006-07 -- his only season before he declared for the draft -- the Tar Heels went 31-7, ultimately falling in the Elite Eight to Georgetown.
Six players from that team were drafted to the NBA. I asked Wright if he saw any similarities between that Tar Heels squad and this Tar Heels squad, which is 26-7 and ranked No. 7 in both the AP and coaches' polls.
"I wouldn't say it's similar because last year they went through a lot by losing so many games and not making it to the tournament," said Wright, referring to the 2009-10 team, which went just 5-11 in the ACC -- 20-17 overall -- and had to settle for an NIT berth.
"I think they're a little more battle-tested [than we were]. They went through the lowest of lows, losing so many games and not making it to the NCAA tournament. They had a lot of expectations last year, but the way they came in this year, they started a little rocky but they came together. A lot of young guys stepped up and they just didn't want to go through what they went through last year."
Unfortunately, Wright won't be able to enjoy the weekend's games in Newark because the Nets will be on the road in Orlando and Atlanta. But he'll be paying attention.
"I'll still get to catch it either way," Wright said. "It would've been nice to come here [to the Prudential Center], but it's cool."