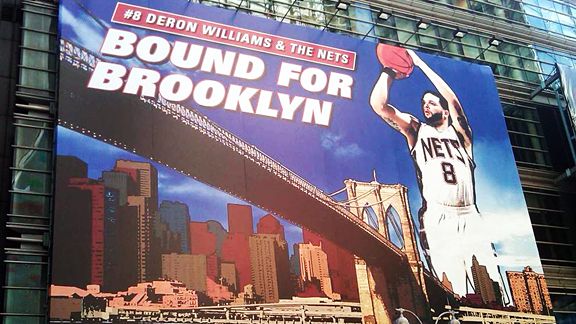 New Jersey Nets
The Nets are bound for Brooklyn -- and they're hoping Deron Williams will come along for the ride.
NEW YORK -- "The Blueprint for Greatness" has now become "The Blueprint for keeping Deron Williams in a Nets uniform long-term."
The Nets unveiled an 80-by-60 foot billboard featuring Williams and the slogan "Bound For Brooklyn" in Times Square on Tuesday afternoon. It will be on display until Apr. 19.
"This Times Square billboard tips off our dynamic 'Brooklyn Bound' campaign, which will see us doing major outdoor advertising in Brooklyn on billboards and phone kiosks," said Nets CEO Brett Yormark in a statement. "Deron is arguably the best point guard in the NBA and he will be the face of our campaign as we prepare for the team's exciting relocation to the Barclays Center of Brooklyn in 2012."
The Nets want Williams, a two-time All-Star who is averaging 20.1 points and 10.3 assists this season, to be the face of the franchise when they move across the Hudson into the NBA's first $1 billion arena before the start of the 2012-13 season.
Williams can opt out of his contract at the end of the 2011-12 campaign and become a free agent.
The Nets are doing everything in their power to keep that from happening. They will likely offer Williams a max contract extension as soon as a new CBA can be agreed upon.
During the summer of 2010, the Nets put up a massive "The Blueprint for Greatness" billboard across the street from Madison Square Garden, in hopes they'd be able to land a superstar in free agency and steal some thunder from the rival New York Knicks. But they failed in their pursuit of LeBron James and Carlos Boozer, among others, and have continued to struggle ever since.
Owner Mikhail Prohkorov's goal is for the Nets to win a championship within five years. Year one will end next week, so the Nets had better do some serious roster upgrading if they want to reach that goal -- as well as keep Williams in the fold.