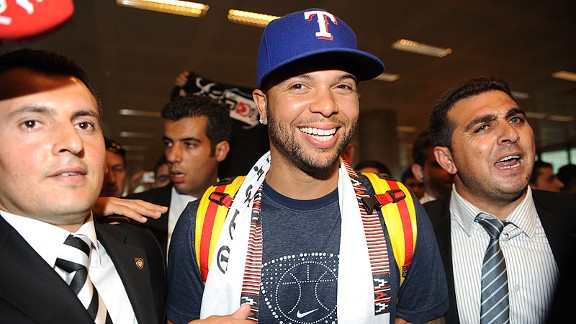 Bulent Kilic/AFP/Getty Images
Deron Williams (center) arrives at TAV Istanbul Ataturk Airport on Sept. 8 in Istanbul, Turkey, where he's playing for the Besiktas Milangaz basketball club until the NBA lockout ends.
There's this little, unfriendly thing spreading like a contagion called the NBA lockout. And if you didn't already know, it has already canceled the first two weeks of the regular season. But until they can agree on a new CBA, New Jersey Nets point guard Deron Williams, who just launched a new website, will continue to play overseas hoops in Turkey. And that's where we bring you, starting today. Every week, until D-Will returns home to the Garden State, ESPNNewYork.com will be talking to the All-Star about his international experiences. Here's his first diary entry, highlighting his four weeks abroad:
TRAVELING TO TURKEY
I'm not going to lie; the transition for our family has been tough. It's been an adjustment for all of us. It wasn't easy to find a place in the city of Istanbul that could hold six people (my family) and a nanny. The place we're in now is kind of small -- actually really small compared to our houses in San Diego and Utah.
It's different, but it's fun. My family is enjoying it. It brings us closer together and that's important. It's just an adventure for all of us.
Getting over here wasn't easy either. When we went to get on the plane to come over here, the ticket desk said my son's passport had expired. So we had 16 bags at the airport, the car was gone and we couldn't get on the flight. We left all of our bags with an attendant there and had another car pick us up to bring us back to the hotel. Luckily my assistant found somebody who could rush his passport that night. So we went through that person, got his passport photo and took it over to a post office. But when we got there, the postal workers didn't want to work on it because they were closing. After a lot of talking, finally we got them to agree to do it.
The next morning we had to go to the passport office in L.A. and we got his passport finished in time to make the same flight the next day. It was a whirlwind and a little too hectic.
When we arrived at the airport in Turkey, there were a lot of fans there to greet us. I'm not sure who organized it. I had talked about it on Twitter, so I'm sure a lot of people knew from that, but it was more than I expected. It was a lot of craziness. One of my daughters got a little scared because of the crowd around us. She can be a little claustrophobic at times and doesn't like being in a closed area. But despite that, to see the support right away from the locals was a good thing.
CHECKING IN
When we first got over here, I was in Turkey for a day, then went straight to Italy with the team for 10 days. I'd never been to Italy before and it was always someplace that I'd wanted to go. The first city we went to was Bormio, which is a really secluded farm town, but I'm told it's also a popular ski area.
We played a couple of games there and then we had to drive six hours to a city close to Florence called Castelfiorentino. That was different than anything I'd experienced in the NBA. There aren't any six-hour bus rides in the NBA.
Since I was gone for almost two weeks right after we got here, we only got a house of our own just a week ago. Before that, the family was in a hotel for those first couple of weeks in Turkey and the kids were cooped up in a room for two weeks. We were trying to get them into school, but that was a little more of a process than we originally thought to get them enrolled. It was tough for them, but now that they're in international school, they've settled in. The kids are happy. They're making some friends and the two older ones are out of the house more. I think that's a blessing for us and for them.
Istanbul is an unbelievable city. We've been out to several Turkish restaurants already and the food is amazing. The Turkish people have been very welcoming. They love kids and everywhere we go somebody is stopping to greet us and hug the babies. There are just very warm people here. I'm really happy for that. The people here recognize me for the most part, but it's not to the point where we can't go out. I've been to a couple malls and a couple markets, and I'm always taking pictures and signing autographs. Basketball is pretty big here in Turkey. It's not as big as soccer, but it's big.
FINDING A ROUTINE
The typical day for the family here doesn't differ much from our routine in the United States. Obviously I'm a little more comfortable getting around in America, just because I know where I'm going and I can communicate. I have a driver here in Turkey right now, so it's a little tougher. I can't just go where I want when I want; I have to arrange to go places. But the kids get up and ride a bus to school just the same, and I usually have practice in the morning or afternoon. Other than that, I'm just at home or we go out shopping. There are a lot of markets out here where we can get fresh produce, so we do that a lot.
My wife loves the city. We travel a lot as a family so everyone is accustomed to traveling and everything that goes along with it at this point. This is just like an extended stay for them. In the summertime, we're constantly going places and my kids are really well-behaved on planes.
This journey has been as much about doing something as a family as it has been about me playing basketball. It's one of those things that you may never get another chance to do. When the lockout ends, I don't think there will ever be another chance for us to do something like this, unless I come back at the end of my career. Who knows if I'll even have a chance to do that. So we wanted to make the most of this opportunity to go see another culture, to live abroad in a great city. The fact that I get a chance to play basketball for Besiktas is an added bonus.
GETTING INTO THE GAME
We had our first actual game as a team on Tuesday, Sept. 13, and got a win. We've played about eight or nine "friendly" games since I've been here, but it was good to get those out of the way and get into games that really count. It's kind of like the NBA preseason. You play six or seven games and at that point you're just ready to get that first one under way when they really mean something.
It's a different game over here. There is less spacing, the officiating isn't the same. Pretty much every aspect of the game is different than in the NBA. I'm just learning and adjusting as we go. I still haven't found my rhythm. Before I got out here, I hadn't played any 5-on-5 basketball since last season. So it's still that training camp stage for me and I'm trying to get my rhythm and my timing down. It all comes with practice.
When I first got here, I played in an exhibition in Italy without any practice at all. Now that we've had some time in the gym together, it has been better. We're still trying to get there, though. It's a process. In the NBA, you generally have a little more time to prepare for the season and your teammates show up before training camp starts to get to work. I really didn't have that with these guys, so I'm learning on the fly right now. But we've got a great group of guys over here on the team. There are some good American players and the Turkish guys can play as well. We're trying to find ourselves as a team, find some continuity and get better.
The arena we play at seats 3,200 people max, so it's not quite the same environment of an NBA game and it hasn't been full yet because these aren't the really big games. Once we start the Turkish league games, it will be different, I think. But the fans that have been at the games are really good fans. They're really into the game nonstop from tip-off and knowledgeable about it. They've been great to play in front of.
My whole experience here so far has been really good and I'm looking forward to continuing this adventure as long as I can. But for my Nets fans, I want you to know that while I'm comfortable over here, I'm not too comfortable. I'm still always ready to come back to the U.S. and have a good NBA season, and hopefully make some noise in the Eastern Conference.
Until next time.
Click here to check out Deron's brand-new website.
You can follow Jared Zwerling on Twitter.