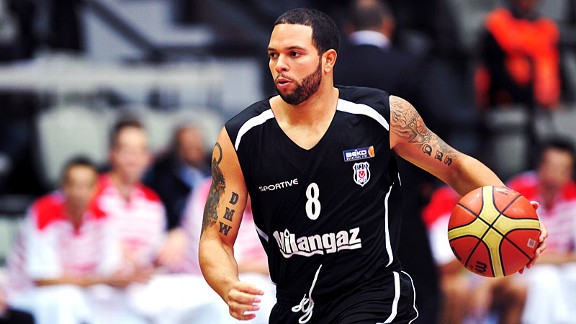 Associated Press
On Thursday, Nets point guard Deron Williams scored 20 points, a team-high, as Besiktas defeated ZZ Leiden 86-58. It was their first win in the Euro Challenge.While the NBA lockout drags on, New Jersey Nets point guard Deron Williams, who just launched a new website, will continue to play overseas hoops in Turkey. Every week until D-Will returns home to the Garden State, ESPNNewYork.com will be talking to the All-Star about his experiences abroad.
Here's his fourth diary entry, where he talks about his Turkish teammates, his favorite TV shows during his down time and another reminder that he's a long way from Newark.
PLAYER INTROS
Fans have been asking about my teammates, so I figured I'd talk a little about the guys on my team. We have a great group. Even though I'm playing in a different country, some of the names on our roster would probably be familiar to American fans because we've got a few American-born players and some Turkish guys who have played in the U.S.
First off, Marcelus Kemp (he plays some shooting guard, but mostly small forward) is our best shooter. He's a natural scorer; that's what he does. I'm not at all saying that he's selfish, but when he comes in the game, people know that he's going to be the guy scoring the basketball.
We've also got David Hawkins, another two-three type. We call him "The Incredible Hulk" because he's just too strong. He'll get in there and post up with anybody, and he gets to the basket and has a good handle. I actually played with him in an NBA summer league my second year in Utah, so I knew him before I got out here, and we're pretty good friends now.
Our other NBA player is Semih Erden. He's a big body who takes up a lot of space and he's very athletic. When he catches it around the basket, you know it's going to be a dunk. But he also has some good moves in the low post and he plays defense tough down low.
We have a nice rotation going at power forward between Erwin Dudley and Zoran Erceg. Zoran is a Serbian guy who helps us space the floor with his jump shot. He's a good rebounder, but his main thing is to create that space in the offense and knock down shots. Erwin played at Alabama and was an All-American. He's listed as Ersin Dagli because that's his Turkish name. (Once you get a Turkish passport, you have to pick out a Turkish name.) Erwin played a little at center before Semih joined us, but now he's settled into the rotation at the four. He's one of our best rebounders and a good defender around the basket. He also has a good touch around the hoop and a shot out to 15 feet. He's really a solid all-around post player.
With me playing at the two, we've been starting Can Akin at the point. He's a solid point guard and runs the offense well. He's known for his defense and is one of our team's best defenders. He gets out, pressures the ball and comes up with a lot of steals. Can's also a good shooter and can hit some good spot up shots, in addition to getting to the basket.
Our bench is solid with some young guys and some vets. Mehmet Yagmur is another point guard who pressures the ball and gives us some energy off the bench. Adem Oren is one of our bigs off the bench and he does a little bit of everything. He's a good low-post defender who just knows how to play. Baris Hersek plays the combo three-four. He can shoot and post up, plus he's a pretty good defender. Serhat Cetin is another one of our best shooters. He comes off the bench to give us a shot of energy and his shot is dead-on. A lot of these guys aren't great at one thing, but they're solid at a lot of things.
Shooting is a different kind of art here. I've never seen so many balls go in and out. Every game, I have like five shots that I think are good shots that don't go in. I've only had a couple of good shooting games because I just can't get the ball to go in the hole. Usually when you take a bad shot, you know. But here I think it's a good shot and then, clank. I don't know if it's the rims or the balls, but it even happens on layups. In the NBA, if you do a proper layup, the ball will hit the rim, bounce around and go in. Here, it will bounce around and shoot out like you just shot a jumper. It's crazy to me.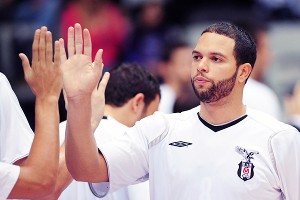 Associated Press
Williams on his new Turkish teammates: "We have a great group."
THE YOUNG GUNS
We also have some junior players on the team -- guys who would be in high school or college if we were in the states. There's nothing like that in the NBA, so it's a different experience. Being younger, they're really quiet in the locker room. You have to speak to them or they won't even talk. I guess it's like a respect thing.
Mehmet Ali Yatagan is one of the younger players on the team. I think he's 18. We call him the "Turkish Pistol Pete." He's got the floppy hair and does the flashy behind-the-backs like Timberwolves point guard Ricky Rubio. Serkan Ozver is another junior player, and I believe he's 22. He's a three-four combo forward who does a little bit of everything.
Then we have Kartal Ozmizrak, my young fella. He's just 16 years old, but he's going to be very good. He's been playing quite a bit lately. We've had some blowouts, so he's gotten some good time on the floor. He's only 16, but he goes out and competes every day and doesn't look like he's afraid. It says something about Kartal that he's been suiting up for the games and some of the older guys haven't. He's going to be a good player if he can get a consistent shot. He's a point guard and has the floor game. He sees the game well, knows when to pressure the ball, has good court vision and makes some great passes. It's just a matter of him getting a solid jumper.
Everybody on our team, from the vets to the young guys, get along. We Americans have nicknames for all the Turkish players. We call Baris "Boris the Bullet Dodger," like the character in the movie "Snatch." For Serhat, we call him "Ciroc," like the vodka. For Adem, we call him "LeBron" because he's so athletic, but he's really not. For Mehmet, we call him "Memo," like the character in the movie "Finding Nemo." It's just a fun thing for everybody.
LAG TIME
The scheduling in the Turkish League is different than any other time I've played basketball. It's hard to get into a rhythm that way. In the NBA, if you have a bad game you can pick back up the next day or you've got three games in four days. That makes it easier to stay in rhythm. Here, we practice all week and then you get up for this one game. It's even different than college basketball because there you generally have two games a week.
Because we have so much time off, there is a lot of practice time and some days we're doing two-a-days. I'm definitely not used to that. The practices aren't too grueling; they're just longer than I'm used to. In Utah, we only practiced for about an hour and a half, but we worked hard for that hour and a half. Here, practice is two and a half hours and we just scrimmage for most of it. It's just a different way of doing things that is created by the schedule.
The practice times have been another adjustment from what I'm used to. We have practice at 4 p.m. on some days. I've never had practice at 4, except for maybe in training camp when we had two-a-days. Even then, it was probably at 6 or so. When we played in Belgium, it was strange because we practiced at the same time as the game the following day. We didn't finish practice until 10:15 p.m. the night before our big game. Then we got in the car to go to the hotel and we hit traffic. The gym was 45 minutes from our hotel, so we didn't get back until 1:15 in the morning. Then we had to get up the next morning, go to shootaround and play that night. It was just kind of bizarre to me the way they scheduled it all.
MUST-SEE TV
Since I have a lot of down time, I've been watching a lot of TV on iTunes. There haven't been that many good movies for the last few years, so I've gotten into all these TV shows. I've gotten used to watching a lot of different programs because, even in the NBA, you have so much down time on the road, and watching shows is how I pass the time. I also don't sleep on planes, so we'll have a four-hour road trip and I just have to watch TV because I can't fall asleep.
You name it, I've watched it. "Prison Break," "24," "Lost," the new "Hawaii Five-0," "Nip/Tuck," "Mad Men." I watch most of the shows on Showtime and HBO, like "Dexter," "Californication," "Weeds," "Entourage," "True Blood." I've watched so many shows that now I'll watch shows that I never thought I'd watch, like the new "90210" and "Gossip Girl." I've watched all of "Gossip Girl," and that's pretty good actually.
I just started "Breaking Bad" a couple weeks ago and got hooked really quickly. I watched two seasons in about four days. I also watch "Modern Family," "Blue Bloods," all the new shows. But my favorite show of all time is a classic -- nothing better than "Martin."
LANGUAGE BARRIER
We recently had another one of those reminders that we aren't in the U.S. anymore, when we went to "Disney On Ice." I took my two girls and two of my oldest daughters' friends from school. I thought it would be fun for them but the advertisement we saw was misleading. When we went on the Internet to order the tickets, they advertise "Disney On Ice" as if it were in English. So when my wife got the tickets online, we thought we'd get all the songs from the Disney movies, in English! It wasn't until we got there that we realized that it's all in Turkish. It was still fun, though, and the kids had a good time. The music is still the same -- just the lyrics are in Turkish. You know what's going on, though, so we had a lot of fun. As long as they enjoyed it, that's what matters.
Everything happens a little slower than we're used to over here and things take a little more time to develop, but we're getting the hang of it. It's certainly been an adjustment, but I think it's worth it for the experience.
Click here to read Part 3 of D-Will's diary. Click here to check out his brand-new website.
You can follow Jared Zwerling on Twitter.