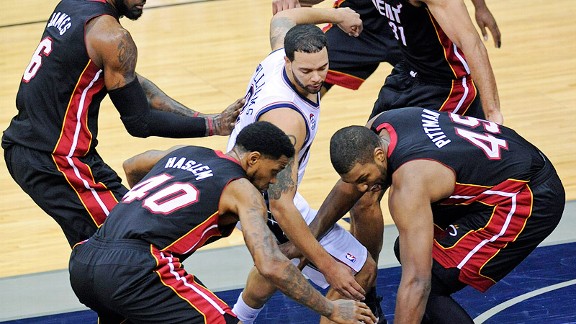 AP Photo/Bill Kostroun
D-Will didn't have a good night at the office on Saturday.NEWARK, N.J. -- After Saturday night's 101-90 loss to the Heat, Nets point guard Deron Williams came out and stated the obvious.
"Our offense sucks," Williams said after the Nets shot 33.7 percent, turned the ball over 21 times and allowed 34 fast-break points. "We're not very good right now. We're not shooting well and we turn the ball over."
Through their first nine games of the season, the Nets (2-7) currently rank dead last in field goal percentage (38.7) and are tied for last in points per game (84.9).
They've shot over 40 percent twice and scored 90 or more points four times. Both those statistics should be a given every night. But they aren't.
The Nets got off to another slow start on Saturday night -- they missed their first six shots and trailed 10-0 at one point -- and paid for it. At the end of the first quarter, they were outscored 22-18 by LeBron James and trailed by 13.
"On top of it, we worked really hard on the glass [Saturday night], but we couldn't convert. We were 1-for-13 on second-chance points," coach Avery Johnson said. "Again, had we converted some of those second-chance opportunities and not turned the ball over as much, then they wouldn't have had as may fast-break points."
James, who finished with a game-high 32 points -- the most by any opposing player against the Nets this season -- killed them in transition.
"We turn the ball over and he is gone," Johnson said. "He is a combination of a tight end, wide receiver, running back once he gets two or three steps on you. That is why we got to take care of the ball."
Heading into the season, GM Billy King assembled a roster built around Williams, low-post scorer Brook Lopez and a bunch of perimeter shooters like Anthony Morrow and Shawne Williams.
But with Lopez injured and teams double-teaming D-Will, those perimeter players have to make their open shots. They haven't. On Saturday night, the Nets made just 10 of their 33 3-point attempts.
"They're a better defensive team, obviously," Morrow, who knocked down three from long range, said of the Heat. "They probably saw us [Friday night when they made 15 of them], so they scouted it. They kind of zoned up Deron and made it harder for him to get the ball across."
The Nets have a ton of issues right now. They aren't getting it done on the defensive end of the floor, either.
But it is what it is. And what is is the same old story pretty much every night.
When will it change? The better question is, will it ever change?
You can follow Mike Mazzeo on Twitter.