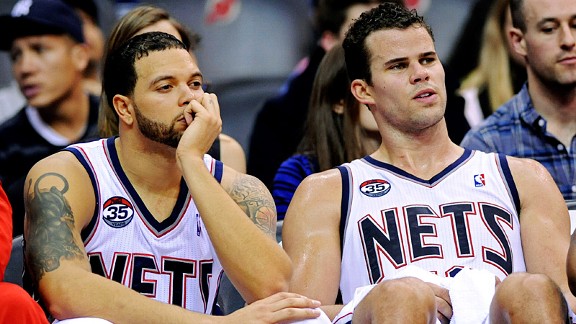 AP Photo/Bill Kostroun
Deron Williams (left) has decided to put his best face forward.Deron Williams' frustration has been evident this season.
So evident, in fact, that someone recently approached the Nets' point guard and told him he needed to change his body language.
"I gotta do a better job of leading these guys," Williams said after his team dropped to 2-8 with a 106-101 loss to the Atlanta Hawks on Monday night at Prudential Center. "They can't see me visibly frustrated, because that's not good for anybody's confidence."
Easier said than done. Williams has been a winner throughout his career. In college, he went to the Final Four. In his first 5½ NBA seasons with Utah, the Jazz made the playoffs four times.
But times have changed. The Nets are in a period of transition. And the 149-day lockout did them absolutely no favors.
Seven newcomers arrived. Training camp was short. Practice time was limited. And then the injuries began to mount. First, Brook Lopez went down with a broken foot. Then Kris Humphries hurt his shoulder. Then Williams' ribs were sore. Then Mehmet Okur's back spasms returned. Then Damion James' right foot became an issue. And now, DeShawn Stevenson's knee is hampering him.
The Nets weren't a talented team to begin with. And all of these issues piling on top of one another hasn't made things any easier.
"Our circumstances have been tough," Williams said. "We lost Brook, a big part of this team, and we have a handful of guys out still. We haven't been at full strength at all, and this shortened season has made for a tough start."
On Monday night, the Nets put themselves in an early hole -- as always -- falling behind 31-18 after a first quarter in which they allowed the Hawks to outshoot them 62.3 percent to 29.4 percent. They're currently ranked last in points scored (18.2) and near the bottom of the league in points allowed (25.6) during the opening stanza.
"That's something that's plagued us a lot, and it cost us the game," Williams said. "If it wasn't for the first quarter, it would've been a whole different outcome."
"We were lethargic," coach Avery Johnson said. "That's been something that's been an epidemic this year, and we gotta do a better job of it."
"We gotta get off to better starts," shooting guard Anthony Morrow said. It's frustrating to have to fight back so many nights."
The Nets tried to find the positives from Monday's loss, as they do after every defeat.
They scored more than 100 points for the first time all season, and shot a season-high 46.8 percent from the field. MarShon Brooks had 19 points and a career-high 10 rebounds, and the Nets nearly rallied from a 16-point, second-half deficit by making seven of their 11 3-pointers in the second half.
But all of that went for naught because they allowed Atlanta to shoot 53.8 percent and couldn't stop Josh Smith or Joe Johnson, who combined for 48 points. And Williams -- despite dishing out a season-high 14 assists -- went 6-for-17 from the field and added to his league lead in turnovers with six more.
"I'm not happy with the way I'm playing," Williams said.
"We have to do a better job executing our game plan," he said. "Sometimes we'll call a play in the huddle, and it's messed up in seconds."
That wasn't the case in Utah, where Williams would know where Carlos Boozer, Okur and Andrei Kirilenko were going to be. But with so many new pieces -- and all the injuries -- Johnson hasn't been able to stabilize his rotation.
Even though they're already 10 games into the season, the Nets still lack continuity and cohesiveness.
"There's still about 50-something games left," Williams said. "Hopefully we can build on [what we did on Monday] during this [four-game West Coast] road-trip."
Hopefully ...
You can follow Mike Mazzeo on Twitter.