The Nets unveiled a new multi-faceted marketing campaign on Tuesday, encouraging fans to purchase "All Access" season tickets.
According to a press release issued by the team: "The comprehensive advertising campaign will include outdoor, such as on 300 taxi tops, several billboards, and kiosks in Brooklyn and Manhattan, as well as direct mail."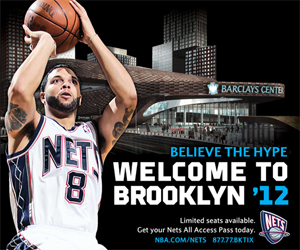 Courtesy of Nets
A billboard featuring D-Will and the team's $1 billion Barclays Center just blocks away from enemy territory -- Madison Square Garden -- at 37th and 8th reads: "Believe The Hype, Welcome To Brooklyn '12"
The second part of that slogan sounds great if they can land No. 12 -- Dwight Howard.
Howard reportedly added the Clippers to his wish list of teams he'd like to play for along with the Nets, Lakers and Mavericks.
But, as ESPN.com's Marc Stein reported in his weekend dime, the Nets may end up having to trade D-Will if D-12 is dealt to a team -- like the Lakers -- that will end up signing him to an extension, leaving the Nets no hope on that front.
The Nets would obviously love to just trade for Howard this season and sign him to a max extension after he opts out (so he can get an extra year and $30 million on that deal), but they could also just take their chances of trying to sign him in the offseason when he opts out in Orlando and becomes a free agent -- if, of course, he isn't dealt to another team by then. That scenario, though, would be nearly impossible if D-Will isn't around.
The dream scenario -- or "Blueprint for Greatness," stealing a slogan from a Nets' ad campaign gone wrong -- for the Nets would be to be in a position where they could just sign Howard in the offseason and pair him with Williams, MarShon Brooks, the team's 2012 lottery pick (they're on pace to go 15-51 this season) and other pieces. But again, that's contingent on everything going according to plan.
What do the Nets need to do for you "Believe The Hype?" Let us know in the comments section.