Anthony Morrow was camped out behind the 3-point arc in the left corner, wide open with 2.4 seconds left.
All Deron Williams had to do was hit him.
"I'm sure everyone in the arena had confidence that he was gonna knock down that shot," Williams said.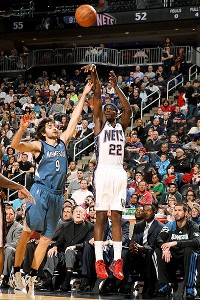 Jeyhoun Allebaugh/Getty Images
Anthony Morrow had the hot hand, going 8-for-11 from 3-point range and 13-for-20 overall.
Unfortunately, Morrow -- having the best game of his career -- never got a chance to take it.
Williams committed a turnover for the third time in the final 95 seconds, losing control of the ball as he was about to make the pass to his backcourt partner and sealing the Nets' fate: a deflating 108-105 loss to the Timberwolves on Friday night at Prudential Center.
"I like those situations the most, and when I do something like that, it definitely upsets me. It's on me. I told the team, it's my fault," said Williams, whose trio of gaffes overshadowed a career-high 42-point performance by Morrow, who became the first Net since Vince Carter to have 40-plus points in a game.
Carter scored 41 in Los Angeles against the Clippers on March 15, 2009.
"A-Mo was amazing," Williams said. "There's no way we'd be in this game if it wasn't for him."
True. And D-Will certainly wasn't of any help. After averaging 29 points and 8.6 assists in his team's last five games, the Nets' point guard went just 5-for-18 from the field and committed six turnovers.
"It happens. You can't be great in every pressure situation. It happens," Williams said.
On Friday night, it didn't just happen once, though. Or twice. It happened three times. All with the game on the line.
First, with the game knotted at 99, Williams threw an errant pass to Morrow, and Luke Ridnour drained a 3-pointer on the other end to give the T-Wolves the lead for good.
Then, Williams proceeded to dribble the ball off his leg as he was driving the lane with 29.9 seconds left. Ridnour knocked down a pair of free throws to make it a five-point game.
Morrow's career-high eighth 3-pointer of the game and third four-point play of the season made it 104-103. He was ready to catch and drain another. If only. Ricky Rubio scooped up Williams' final miscue and threw the ball down to the other end of the floor.
"He was just attacking and lost the ball," coach Avery Johnson said of Williams. "We were trying to run something for Anthony and they just got their hands on the ball, and unfortunately it didn't work out for us."
Morrow sscored 17 points in the final stanza and 15 in the second quarter, as the Nets ended up rallying from double-digit deficits on two different occasions.
"He was on fire. Our guys were finding him, setting great screens for him, and he was letting it fly," Johnson said of Morrow, who went 13-for-20 from the field, 8-for-11 from 3-point land and a perfect 8-for-8 from the free throw stripe. "Every play that we drew up for him he executed it perfectly. I think he was perfect and special. It was a special performance."
Morrow's previous career-high was 37 points in his NBA debut with the Warriors on Nov. 15, 2008.
"I thought about that night a little bit," Morrow said. "But we got the win that night."
The Nets might have, too, had Morrow gotten a chance to take that last shot.