The best point guard in Madison Square Garden on Saturday night wasn't Deron Williams. It was a Harvard graduate by the name of Jeremy Lin.
The Nets held Carmelo Anthony to 3-for-15 shooting and Amare Stoudemire played just 25 minutes due to foul trouble, but Lin abused the Nets all evening long, pouring in a career-high 25 points off the bench as the Knicks emerged with a 99-92 victory.
"We tried to trap him, he beat our traps. We tried to stay back on him, and he threw up some Hail Marys and they went in," Nets coach Avery Johnson said. "I guess he'll have a good day at church [Sunday]."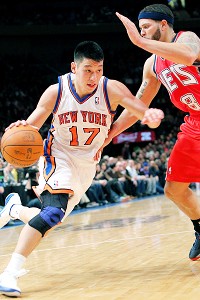 Nicole Sweet/US Presswire
Little-used Jeremy Lin was too much for Deron Williams, one of the NBA's best point guards.In an ugly game that came down to who wanted it more, the team that was playing its third game in three nights emerged over the team that was playing its fourth game in five nights. Lin outscored Williams 12-7 in the fourth quarter, and the Nets went 3-for-10 in the final 5½ minutes as the Knicks closed the contest on a 17-10 run that proved to be the difference.
"I didn't do a good job containing Jeremy Lin," said Williams, who scored just 11 of his 21 points after the first quarter. "There's so much focus on Carmelo and Amare and the other guys, and our game plan was to help off him. And he just started knocking down shots and got confidence and he was relentless taking it to the basket."
On Friday night, it was a Montenegrin by the name of Nikola Pekovic who abused the Nets inside. On Saturday night, it was Lin, an undrafted backup, who abused them with his crafty ball-handling in the pick-and-roll.
"We did a good job containing the stars on those teams and other guys stepped up and beat us," Williams said. "It seemed like they beat us to a lot of loose balls and rebounds that we should've had, especially with them playing three games in three nights."
The Nets got off to a sizzling start, hitting four of their first five 3-pointers, scoring a season high-tying 30 first-quarter points and taking a 10-point lead into the second period. But they went just 6-for-21 from deep the rest of the way, were outrebounded 48-39 and outscored in the paint, 60-28.
"We started off the game great and we got good things and I think we got away from that," Williams said. "They started switching and we just got out of our offense totally. From there, it was just trying to find good shots and good looks, and then we had some breakdowns on defense that really cost us."
By we, Williams must've meant, "I." His pick-and-roll defense was atrocious. When he was supposed to get over screens, he went under them. When he was supposed to body up on Lin, he let the speedy 23-year-old drive right past him for a layup.
"We tried to give him different looks on our pick-and-roll coverage, and he just had a terrific game," Johnson said of Lin.
The Knicks are still lousy. The Nets are too, but at least they have an excuse.
Not having Brook Lopez and MarShon Brooks makes winning games extremely difficult. Allowing anonymous players like Lin and Pekovic to go off makes winning games flat out impossible.
The Nets (8-17) have now lost to the Knicks (9-15) five straight times. Saturday night's game is one they'd love to have back.
"This was a boxing match, they swung last and kind of knocked us out," Johnson said.