The Nets are 8-21 now.
Imagine what their record is going to look like at the All-Star break.
Before getting there, the Nets have to play six games in eight nights: vs. Memphis on Wednesday; at Indiana on Thursday; at Chicago on Saturday; vs. Milwaukee on Sunday; at New York on Feb. 20; and vs. Orlando on Feb. 22.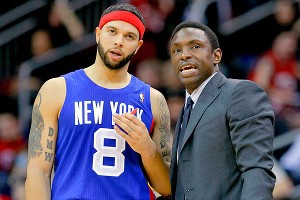 Jim O'Connor/US Presswire
Deron Williams and Avery Johnson look forward to three consecutive days without a game.
At least they get three days off before they head into the gauntlet.
"We need them for a variety of reasons," coach Avery Johnson said of the break, after the injury-depleted Nets lost their sixth straight game, 103-89, to the Spurs at Prudential Center.
"We need a day off, we need to lift some weights, and we need rest for our high-minute guys. We need a good practice, which we will eventually get on Tuesday. I mean a really good practice; almost sort of a mini training camp practice. We've been preparing for this time. We've been looking forward to it."
"It's good because we've got six in eight nights," said Deron Williams, who scored 27 points, dished out eight assists and grabbed four rebounds on 9-for-23 shooting and 2-for-8 from 3-point range in 38 minutes. "It'll be a chance to get guys healthy again and get a day of practice in to see where we're at."
Johnson claims the Nets are going to be healthy at some point this season. The question is, when? They final got rookie MarShon Brooks back, but he's been rusty, as expected, after a six-game absence due to a broken toe. Mehmet Okur had another epidural on his back, but he's still out, and DeShawn Stevenson remains on the mend with a knee injury.
And then there's Brook Lopez, who wants to return to practice this week, but no one has confirmed that's going to happen.
Until then, the Nets are who they are: an abysmal defensive team that lives and dies by the 3-pointer and has no post presence. On Saturday night, they shot 4-for-9 from beyond the arc in the first quarter and stayed within 24-22. Unfortunately, they couldn't sustain that, missed all six of their 3s in the second period and fell behind 55-40 at the half. The Spurs shot 73.7 percent in the second quarter -- 61.5 percent in the first half.
The Nets ended up cutting that deficit to six, 62-56, with 5:49 left in the third quarter, but they closed out the period by missing 10 straight shots and turning it over twice as the Spurs opened up an 18-point lead. And the fourth quarter, as has been the case of late, was just bookkeeping. The Nets trailed by as many as 21, made 7 of their 24 3-point attempts and were outscored, 50-34, in the paint.
"There was a little more energy," Johnson said. "I wish we would've had the same energy [Friday night in Detroit]. I think if we did, we would've had a better chance to win. ... We think by Wednesday we'll be a much better team with a combination of ways that we're going to manage these next three days."
If the Knicks gave them Jeremy Lin for free, that would be believable. Until then, though, the jury is still out.