Dwight Howard didn't even give the media a chance to ask him questions.
The Magic center briskly walked past a pack of reporters after watching film at Prudential Center on Wednesday morning prior to the team's game against the Nets.
It has been well-documented that Howard -- who is likely to opt out of his contract and leave the Magic if he isn't traded before the March 15 deadline -- would love to team up with Deron Williams, forming a dynamic duo once the Nets move to Brooklyn in 2012-13.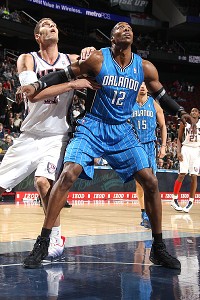 Nathaniel S. Butler/NBAE/Getty Images
Brook Lopez (left) and Dwight Howard were at the center of preseason trade talk.
The Nets appear to be rolling out the red carpet for Howard on Wednesday night. A group of workers was seen putting together a pyrotechnic show. The Nets only bust that out for special occasions, it seems. They used it in their home opener as well.
Magic coach Stan Van Gundy wanted no part of questions surrounding his center's future.
He answered "no" when asked if it felt any different playing in New Jersey, if he'd talk to his team before the game and if the whole D-12 situation felt "shady" given that Howard's agent had given the Magic a list of three teams he'd like to be traded to: the Nets, Mavericks and Lakers.
Asked if he had dinner with Howard on Tuesday night, Williams responded, "I don't know? Did I?"
The Nets figure they're going to have to deal with questions surrounding Howard until the trade deadline -- if not through the offseason as well.
"We're gonna have to manage it," Nets coach Avery Johnson said. "Billy [King] and I laugh all the time. Sometime between March 1 and March 15 his phone's going to be blowing up and going crazy all night long. And I just told him I'm glad he has that job. Mine's gonna be off and on silent.
"We're gonna be glad when March 16 rolls around."
And if there isn't a resolution?
"We're glad that at least our name is in the news," Johnson said.
Asked if all of this is a distraction, Williams responded, "I don't think it's a distraction at all, nope. Not here. It hasn't been discussed."
Center Brook Lopez's name has been prominently mentioned in rumors surrounding Howard. But he said he's ignoring them and is excited to play his second game this season after sitting out with a broken foot.
"I don't think it hurts that it's Dwight," Johnson said. "I don't know if he has it circled for the individual matchup, but he's got it circled because he wants to play and get back to his normal minutes and playing the way he wants to play and become a much improved rebounder."