Kris Humphries can never be accused of failing to give maximum effort on the court.
"After games, he's totally exhausted," Nets coach Avery Johnson said after his 27-year-old power forward scored a career-high 31 points, grabbed 18 rebounds and blocked three shots over 42 minutes in Monday night's 105-99 loss to the Bucks.
"He leaves it all out there on the floor. He's a great example of just playing until your dead tired."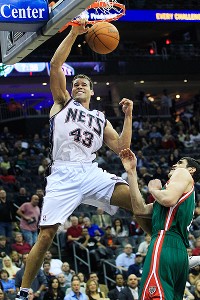 AP Photo/Mel Evans
Kris Humphries
In 40 games with the Nets this season, Humphries has logged 1,394 minutes and 44 seconds, and ranks second on the team to point guard Deron Williams in minutes per contest (34:52).
"It wasn't tough [Monday night]," said Humphries, who became just the fifth Net since 1985-86 to go for 31 and 18 in a single game. "But on back-to-backs it's pretty tough."
Sure is. But you wouldn't know it watching Humphries.
On Monday night, he was a beast on the interior. Humphries, who shot 11-for-15 from the field and 9-for-12 from the free throw line, recorded 13 points and six rebounds in the first quarter, and by the end of the first half he had amassed his 18th double-double of the season: 21 points and 10 boards.
"He got off to a good start and was real focused," Johnson said. "Guys started going to him early and he made some really incredible blocks. He's playing on both ends of the floor."
On Feb. 19, Humphries was outplayed by Milwaukee hybrid forward Ersan Ilyasova, who scored 29 points and grabbed an NBA season-high-tying 25 rebounds. Humphries was determined not to let "Turkish Thunder" go "Ersane" again.
"He played great last time," Humphries said. "I wanted to make sure he didn't come out and get momentum and have that kind of night."
Ilyasova didn't, scoring just four points and snagging three boards in 24 minutes.
The Nets (14-29, 4-15 home) went right at him from the opening possession, getting Humphries a look in the post, and he got a 5-foot hook to go. That set the tone for what should've been a different outcome had the Nets not turned the ball over nine times in the third quarter and allowed Milwaukee (18-24) to go on a 17-2 run spanning the end of the third to the early part of the fourth, which turned a nine-point lead into a six-point deficit.
Humphries' highlight of the evening was his steal and slam that gave the Nets a 48-36 edge in the second quarter. He scooped up a loose ball and went coast-to-coast, taking it himself on a 2-on-1 fast break and finishing with a rim-rocking, one-handed jam.
"I got it, I just pushed it out, and then I was looking for someone and I realized, there's only one guy back. And it got to the point where he [wasn't] gonna take the charge, so I just said, 'Let me try and dunk this,'" Humphries said. "It worked out."
Humphries signed a one-year, $8 million contract in the offseason, so he could be a candidate to be dealt by Thursday's NBA trading deadline. But he has veto power because he'd have to give up his Bird Rights in order to be moved.
Using a bridge analogy after Monday's morning shootaround, Humphries (13.6 ppg, 10.7 rpg) essentially said he'd be willing to waive his no-trade clause if the situation was right. And there's plenty of contenders who would love to have a player of his ilk.
But for now, he's a Net, and Johnson and Humphries' teammates aren't going to complain about that.