Will anything that happens the rest of the season affect Deron Williams' decision to stay or go?
"Not really," the Nets' point guard replied Wednesday morning.
Has the likely free-agent-to-be made up his mind already?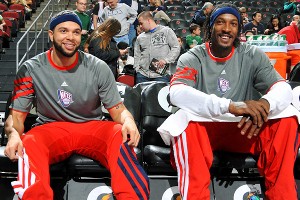 Jesse D. Garrabrant/NBAE/Getty Images
Keeping Deron Williams and Gerald Wallace is crucial for the Nets when the team moves to Brooklyn.
Maybe. Maybe not.
What factors into his decision?
He says he loves living in New York, has praised his relationship with Nets' brass and raves about the marketing opportunities he has been afforded. Plus, he can opt out and re-sign for five years, $109 million -- approximately a year and $28 million more than any other team can offer under the new CBA.
But he cares about winning, and the Nets haven't won since he was traded there. With Williams in the lineup, they've won 18 and lost 36.
Still, if everything falls into the place, they could be contenders going into Brooklyn. But if it doesn't, they'll basically be an expansion team.
The Mavericks -- at least at this point, the Nets' top competition for Williams' services -- are just a season removed from winning the NBA championship. But Dirk Nowitzki isn't getting any younger. Still, Dallas also has a billionaire owner who hates losing and has deep pockets. Plus, Williams grew up there, so that adds to the appeal of playing for the Mavs.
Either way -- if he chooses one of those two teams -- Williams will be playing in a state-of-the-art arena. He'll also be richer. Seems like he can't lose. The Nets, however, can -- big.
Dream scenario: D-Will re-ups, Gerald Wallace opts in, they win the lottery and draft Anthony Davis. The Rockets make the playoffs as an eight seed out West and the Nets get an additional mid-first, too. Plus they can take a run at D-12 again next season.
Doomsday scenario: D-Will and Wallace both bolt, they end up with the No. 4 pick, which goes to Portland, and the Rockets miss the playoffs. Boom. Expansioned.
But back to Wednesday ...
Williams was asked if he can foresee the Nets overtaking the Knicks as the No. 1 team in New York City.
"Not anytime soon," he responded. "I mean, there's just so many Knicks fans, you know? It would take a while for all the kids to grow up being Nets fans; the young kids right now, or even the ones that aren't even born yet. Most people are Knicks fans, so I think it'd be a while. [But] if we win a championship, there's no telling what could happen."
Williams was at a Metro PCS event in Brooklyn on Tuesday, signing autographs for fans.
"I got grilled by a lot of Brooklynites, telling me I had to stay there or they're coming after me," Williams joked.
As for the team's remaining 11 games in New Jersey, Williams replied, "We'd like to go out with a bang. What's the team been here, 35 years? So I know it's special to a lot of longtime Nets fans, and hopefully we can finish up strong."
Getting a win over the Wizards on Wednesday night would be a start.
• Backup point guard Jordan Farmar (sore right groin) is "probably out," coach Avery Johnson said. Farmar has missed the last three games with the injury. It means D-League 10-day guy Jerry Smith will get more playing time.