Their superstar? Ejected. Their coach? Ejected.
Their losing streak? Four.
Their playoff hopes? Ha! Good one.
Deron Williams and Avery Johnson were kicked out of Wednesday night's 108-89 loss to the Wizards during the third quarter.
They were the lucky ones. Everyone else had to gut it out.
By the time the final buzzer sounded, chants of "Jay-Z! Jay-Z!" and the standard boos resonated from a clearly frustrated crowd of 10,097 at Prudential Center.
"Well, again, we're disappointed, but we're not an elite team yet, OK?" Johnson said after his team plummeted to 15-33, the fourth-worst record in the NBA.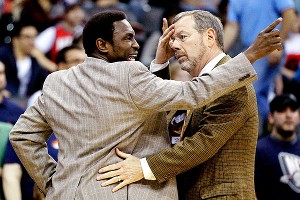 AP Photo/Julio Cortez
Avery Johnson made an early exit, so P.J. Carlesimo had to take over.
"We don't have much margin for error. So we can't say, 'Well, we played against New Orleans, Charlotte or Washington, you guys should come out there and beat those teams by 20 points.' That's not [possible]. We gotta play great basketball. We don't have much margin for error."
Johnson normally tries to look on the bright side of things. But even he had trouble putting on his rose-colored glasses after this particular debacle, a debacle in which the Nets gave up 14 offensive rebounds and made 16 of their 38 field goals inside the paint.
"[The effort] could've been better. It could've been better," Johnson said. "And you know I'm always one that tries to be really, really positive, at times with our team, but it could've been better."
Before his second ejection as a Net -- and first since Feb. 2, 2011, against Philadelphia -- Johnson was already upset that the officials missed a pair of eight-second violations that were clear as day. So it was only a matter of time before he blew a gasket.
With 5:23 left in the third period and the Nets trailing 70-64, Williams drove inside, hoisted up a shot and thought he was fouled, but no call was made. John Wall hit a 19-footer on the other end to put Washington up by eight.
The Nets called timeout at the 5:18 mark, and Williams was talking with referee Josh Tiven. It didn't appear to be a heated conversation, but things quickly escalated. Tiven hit Williams with one T, then another, and just like that the 27-year-old All-Star had been tossed for the second time in his career -- both coming this season.
Jordan Crawford connected on the ensuing free throws before Johnson got the gate for giving Tiven an earful. Crawford hit those two freebees as well. Just like that, it was 76-64, and the Nets never recovered.
"It was just a difference of opinion," Johnson said. "We'll leave it at that."
Williams wasn't in the locker room to explain what happened. He now has three technicals in his last two games, and hasn't addressed the media in either of them.
"You know those guys, they care," Kris Humphries said. "Coach cares, Deron cares, so you get frustrated and it happens from time to time."
Newcomer Gerald Wallace wasn't particularly happy with how the game was officiated.
"Washington got the benefit of the doubt on everything," he said, without getting into specifics because he didn't want to be fined. "You guys watched the game. I'm not saying we're the Lakers or the San Antonio Spurs or somebody, but we played just as hard as the Wizards played and it just felt like they were just more favored than us."
Before the game, Williams said the last 19 games wouldn't have any effect on his decision to stay with the Nets or leave at the end of the season. Phew.
Consider: During the team's four-game skid, it has blown a 12-point fourth-quarter lead to the 10-34 Hornets; failed to finish down the stretch against the 16-26 Cavaliers; and been massacred by the 10-34 Wizards -- all at home.
The Nets, who have lost six of their last seven, are 5-18 at home, by the way. And they can't use not having Brook Lopez as an excuse. New Orleans, Cleveland and Washington are bad. Just not as bad as the Nets have been, though.
"You know, we're just not clicking. It's just tough basketball right now," Humphries said. "We've just gotta stay after it, it's been tough. You feel like you're beating yourself at times and it's not fun to play like that."
Are the Nets trying to tank so they can get their top-3 protected first-rounder back? Or are they just this bad? Either way, it isn't pretty.
Remember when the Nets were on the verge of getting Dwight Howard and the Knicks were stinking up the joint? Those were the days, huh?