Nets vs. Lakers: 1 p.m. Sunday
Nets coach Avery Johnson realizes the Lakers aren't playing great lately -- they're 5-5 in their last 10 games -- but he knows the two-time defending NBA champions present a lot of problems for New Jersey on Sunday afternoon at the Prudential Center.
"The obvious are Kobe [Bryant] and [Pau] Gasol," Johnson said after the Nets' Saturday practice. "Right now, I think Steve Blake has been a nice addition for their team, shooting the three awfully well. [Derek] Fisher and [Ron] Artest are terrific defenders. Lamar Odom is one of the best versatile players in the league. We've got to play well to win any game, and definitely tomorrow."
Fortunately for Johnson, he has been able to consult with Nets point guard Jordan Farmar, a Laker for four seasons, to learn more about the purple and gold's tendencies.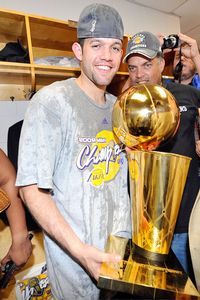 Jesse D. Garrabrant
Getty Images
Jordan Farmar was a member of two Lakers championship teams.
"He has obviously given us some of the things the Lakers like to do," Johnson said. "But guess what? Everybody in the league knows what they like to do, and you still have to stop them."
So what has Farmar relayed to Johnson about the Lake Show?
"They're a good team and you have to go out there and compete -- make them work on both ends of the floor, make them try to take tough shots, and get out and run," Farmar said. "The scouting report is pretty simple. They just dump the ball into Pau, they space the floor and just play basketball. We have to really work on our individual defense, helping each other out and try to get some stops."
With Devin Harris a game-time decision with a bruised left shoulder, Farmar could start for the third time in six games -- a role in which he's flourished. In his previous two starts, Farmar averaged 22 points and 9.5 assists, and he's scored in double figures in six straight games.
Farmar's veteran mentor, Harris, has been most impressed with his basketball IQ and knowledge of the game. "He's also a fighter," Harris said. "He's a very scrappy player and he's actually taught me a few things about the game."
If Farmar does get the call Sunday, Johnson is prepared to make the adjustments.
"Jordan is a little bit different defensively than Devin is, especially on the ball," Johnson said. "Everybody has strengths and weaknesses. Jordan is an awfully good shooter, and we just have to play to his strengths."
Nets notes:
• Johnson said rookie Damion James tweaked his right foot against the Mavericks on Thursday. While the team awaits the results of an MRI, Johnson said James is a game-time decision for Sunday. Johnson he will consider starting Quinton Ross or Stephen Graham at small forward; Travis Outlaw will continue to come off the bench.
• Johnson on what he took away from the team's strong third quarter against Dallas, when they outscored the Mavs 29-24 and cut the deficit from 20 to five: "We were on our heels a little bit early in the game, and after watching the film, we started executing our defensive game plan and system better in the third quarter. We put more pressure on them, we rotated. Early in the game, our rotations were slow. We're a team that's probably only playing about 18 good minutes of basketball. You can't win in this league doing that. The really good teams, like Dallas, Boston, Utah, are playing somewhere around 36 to 38 minutes of good basketball. So we have a long ways to go."
• Johnson on Kobe vs. Michael Jordan: "Kobe's up there. He can arguably be one; in some polls, he'll be two. He can be 1A and Jordan can be 1B, or in some polls they'll be flipped. Fortunately, I had a chance to play against both of them and now coach against Kobe and, boy, sometimes he looks like the same player."
• Farmar on how good Bryant is: "Very good (laughs). He's the best in the league, absolutely. I've never seen anything like him. He can do everything very well. It doesn't matter if it's single coverage -- you can play good defense and he still makes the shot -- or you double team and he still makes shots. And if he decides to take the game over by passing, he has the ability to do that as well. He's just a competitor. His will to win is amazing. The list goes on and on."
You can follow Jared Zwerling on Twitter.