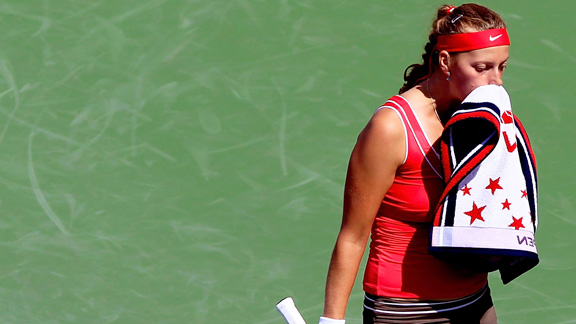 Chris Trotman/Getty Images
Petra Kvitova made an early exit from the U.S. Open on Monday.NEW YORK -- How often do you see a player lose and then admit she was beating herself on the court with negative thinking?
The women's side of the draw can use every ounce of star power it can get, and it lost a little of that when No. 5 seed and reigning Wimbledon champ Petra Kvitova lost in straight sets to Alexandra Dulgheru.
Kvitova, 21, said flat out that she had trouble battling negativity.
"Everything, it's the head," she said, after committing 52 unforced errors.
Dulgheru, a Romanian ranked 49th in the world, had control of the match after taking the first set en route to a 7-6 (3), 6-3 win. Kvitova was asked how a reigning Wimbledon champ -- and proficient hard-court player -- could lose confidence after her first career Grand Slam event.
"Good question," she said. "I don't know."
She said that she hasn't had a crisis of confidence like this and it's something she will have to confront. It's not New York -- she loves the city. Kvitova is sure of one thing, however.
"If you are thinking on the court negatively, it's bad," Kvitova said.
With the loss, Kvitova became the first reigning Wimbledon champ to lose in the first round at the U.S. Open in the Open era.
The women's draw nearly lost another headliner. No. 3 Maria Sharapova needed three sets to defeat unseeded Heather Watson of Great Britain, 3-6, 7-5, 6-3. The match took 2 hours and 34 minutes, and Sharapova pumped her fist when she finally pulled it out. The Russian had 58 unforced errors in the match.
Catcher in the Ryan: Ryan Harrison will have to keep the annoying "American up-and-comer" tag for another year after losing his first-round match at the U.S. Open to No. 27 Marin Cilic, 6-2, 7-5, 7-6 (6).
Harrison won his first-round match over No. 15 Ivan Ljubicic in 2010 and had a strong summer this year. But those hoping to watch the next generation of Americans take off will have to look elsewhere.
"It's obviously pretty disappointing to be out of here, you know, when half the people haven't even arrived yet with the hurricane," Harrison said.
Harrison said he never felt like he was playing well against the Croatian. A few moments in the match he looked perplexed and annoyed. But that may not be too surprising coming from a player who lists Andy Roddick as a mentor.
"Yeah, I was frustrated just because I knew I wasn't feeling the ball well from the beginning," Harrison said. "I got broken three times in the first two sets, and I got broken serving for the set in the third set. So obviously you're not gonna feel good whenever that is going on. I didn't break any rackets; I didn't say swear words on court. It could have gotten better and I could have been better. I didn't really go nuts."
Keys to adulthood: Madison Keys may have been 21 years younger than fellow American Jill Craybas, but that was no reason to feel intimidated. The 16-year-old jumped to a 6-2, 6-4 win over Craybas, 37, in the first round. Keys could appreciate Craybas' longevity.
"I think I'd have a pretty good career if it lasted that long," Keys said.
Both players were wild cards, but with a ranking of 112, Craybas was well above No. 456 Keyes.
The youngest player to win a main draw match since 2005 admitted that she got into tennis after seeing another American, Venus Williams, playing on her TV. Keys was 4 years old at the time.
"I think they were watching Wimbledon or something, and I decided I wanted Venus' dress," Keys said. "They told me if I played tennis they'd buy me a tennis dress. I said, 'All right, I'll try it.' I have been playing ever since."
Then, very earnestly, she said that it shows the power of the right attire.
"I think it just kinda shows how important outfits are," Keys said.
American idol: Novak Djokovic plays his first-round match on Ashe on Tuesday night, and said today the rumors of an exhibition match with Pete Sampras were true. The match is supposed to take place in Slovenia, but nothing is confirmed yet.
"Hopefully it's going to become true," Djokovic said, "because I would love to play with my idol."
Swimming downstream: The top-ranked American man won his first-round match easily. Mardy Fish topped unseeded Tobias Kamke 6-2, 6-2, 6-1. Fish said he's never come into a U.S. Open with as much confidence as he has right now.
"Sometimes I feel like I'm playing with house money a little bit because I just never would have imagined [this] two years ago," Fish said.
Fish mentioned his knee injury and subsequent weight gain as challenges he needed to overcome. He said it taught him how lucky he is to play the sport he loves.