U.S. 1, Algeria 0 » Where to watch in New York »
Ian Begley was on the scene at Baker Street Pub on 63rd and 1st as the U.S. met Algeria with its World Cup life on the line.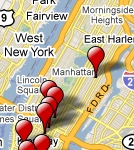 12:02 p.m.: Rob lost his voice after the final two minutes, but he manages to tell me that "this place was just as good as Nevada Smiths. I can't describe what it felt like in here in the final minutes." His friend Mike calls this morning's action, "the best sporting event I've ever been a part of." Can't argue with him after the incredible atmosphere at Baker Street. Check back for video from the pub a bit later on.
11:58 a.m.: Wild cheers for Landon Donovan, who's in tears after scoring one of the biggest goals in this nation's history.
11:52 a.m.: They're delirious here at Baker Street after the final whistle blows. U.S. 1, Algeria 0. We're going to the knockout round!
11:50 a.m.: USA! USA! The crowd goes bonkers after that Donovan game-winner. USA! USA! That vuvuzela never sounded so sweet.
11:48 a.m.: A yellow there on Beasley drives this crowd crazy. Four minutes of added time to score or go home for the U.S.
11:45 a.m.: Desperation time. U.S. fans rue Slovenia's missed chance. Slovenia needs to score in the final two minutes if the U.S. can't get a goal.
11:42 a.m.: Dempsey's free kick sails high. Things are tightening up at Baker Street in the 84th minute.
11:40 a.m.: A few fans calling for a red card on that dirty tackle of Altidore. Ref issues a yellow.
11:38 a.m.: Great shot by Bradley. Even better save by the Algerian goalie. Dejection on faces of some U.S. fans.
11:36 a.m.: Nice job by Dempsey to draw that foul.
11:35 a.m.: Tired of watching the U.S. miss opportunity after opportunity, one U.S. fan is rooting for the next option. "Let's go Slovenia!" she says with a sheepish smile.
11:32 a.m.: Bob Bradley's reaction says it all after another missed opportunity on that free kick in the 74th minute. If it ends like this, we're on the outside looking in.
11:35 a.m.: Big cheers after the foul call on Altidore.
11:30 a.m.: One U.S. fan puts things in perspective after that last near-miss. "Look at the history. When haven't we been (bleeped) in the World Cup?"
11:28 a.m.: You can not be serious! Buddle really should have converted on that header.
11:26 a.m.: Slovenia nearly ties it and seconds later the U.S. nearly converts a corner. Crowd cries out after both plays. This is a sports fan's dream.
11:25 a.m.: Cheers for the local guy, Edson Buddle, who was raised in New Rochelle.
11:20 a.m.: Standing between one TV featuring the England game and one playing the U.S. game is like soccer sensory overload for me, but Pat, a Baker Street regular, loves it. "A great sports bar," he says. On the blown opportunities for the U.S. so far, Pat says they are "part of the game." This guy is way too levelheaded to be a U.S. fan.
11:18 a.m.: Oh, the agony. Bradley with a great chance off the post. Torture for the crowd here.
11:10 a.m.: Just talked to Steve, the guy with the vuvuzela. He says he got the world's most controversial horn while in South Africa. He just returned from the host country after watching the the USA's first two games. He and his wife blow the blue horn wherever they go, including the workplace. Must be a popular couple.
11:05 a.m.: Huge sense of relief from American fans after refs rule England offside after what would have been their second goal.
10:56 a.m.: Steve, a diehard England fan, says he isn't paying attention to the U.S. game blaring in the background. "I don't care what happens over there. If we win, we advance."
10:50 a.m.: Scott lives right around the corner from Baker Street and says the atmosphere here today with the England and U.S. games on at the same time is ''intense." That goal-negating offside call? "Unfortunate," he says. It's 0-0 at the end of the first half.
10:45 a.m.: Sigh of relief after that Algeria shot sails over the crossbar.
10:40 a.m.: Finally, an offside call that goes our way.
10:41 a.m.: Nice stop by Tim Howard in the 37th minute.
10:38 a.m.: Either Donovan or Altidore should have buried that one.
10:36 a.m.: Another missed opportunity for Dempsey. It's early, but you can already feel the tension among U.S. fans with England up 1-0.
10:35 a.m.: If this holds up and the U.S. loses on another blown call (the first was by ref Koman Coulibaly, who took away Maurice Edu's goal against Slovenia), I hope Bud Selig calls for instant replay at the World Cup.
10:32 a.m.: England wastes two prime opportunities to go up 2-0 on Slovenia. Screaming England fans are outraged.
10:30 a.m.: Salim agrees with the announcers, who say that offside call was terrible. "That was the wrong call," said Salim. "I'm a fan of good football, not bad refereeing. That's the second time that's happened."
10:25 a.m.: And half the crowd goes crazy as Defoe scores for England. That goal gives England a 1-0 lead and cuts the goal differential between the two countries to one.
10:24 a.m.: Not sure who was more upset by that offside call that took a goal off the board for the U.S., Bob Bradley or the guy blowing the vuvuzela.
10:20 a.m.: The staff here has decided to help any patrons confused by the simultaneous games by taping "USA" and "England" labels to each television.
10:15 a.m.: Constantino, a writer for the Daily Beast website, says Baker Street is a great atmosphere for soccer, "especially at 10 a.m. on a Wednesday." The bar's ceiling is lined with flags, soccer jerseys and club team scarves.
10:11 a.m.: Altidore draws a yellow, which draws a polite applause from the U.S. fans.
10:10 a.m.: Hercules comes back with a nice shot on goal and Dempsey's free kick sails high over the crossbar a minute later. Scoreless tie in the ninth minute.
10:05 a.m.: Wow. DeMeritt is lucky that shot hit the crossbar. This crowd nearly hyperventilated after that shot.
10:00 a.m.: They're not playing favorites here. The U.S. game is on four screens and the England game is on four screens. The dueling vuvuzelas from both crowds are in perfect harmony.
9:58 a.m.: Dan, a surgeon at New York Presbyterian, is here dressed in his scrubs. He's slated to go into surgery right after the game. Hope the U.S. wins for his patient's sake.
9:55 a.m.: Someone just blew a blue vuvuzela. No one was happy about it. Someone asked him politely to take his vuvuzela and shove it.
9:50 a.m.: Just saw Nick, an England fan who I bumped into at Nevada Smiths for the U.S.-England game last Saturday. He's hoping for a more relaxed atmosphere here than we had at Smiths, which was packed wall-to-wall with 500 people hours before the game. So far, there's plenty of room to walk around at Baker St., so Nick is happy.
9:40 a.m.: Baker Street Pub on 63rd and 1st is about half-full 20 minutes before U.S.-Algeria. The Americans advance with a win or a tie AND an England loss against Slovenia OR a tie AND an England tie, as long as they maintain goal differential. England plays Slovenia at the same time as U.S.-Algeria.