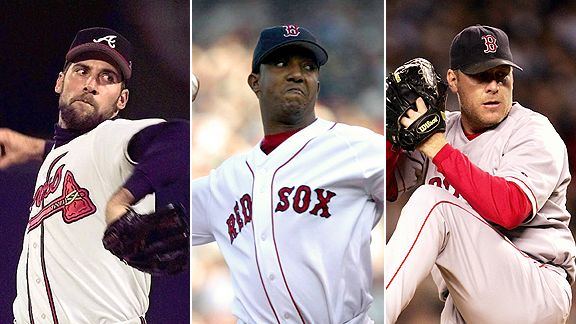 Getty Images
The Yankees have previously beaten John Smoltz, Pedro Martinez and Curt Schilling, whose win-loss record compared favorably with the man they'll face tonight, Cliff Lee.
Andy Pettitte has beaten postseason's version of Mr. Invincible before.
Flash back 14 years to Game 5 of the 1996 World Series and the classic pitchers duel between the then-second-year lefty and Braves righty John Smoltz (coincidentally now part of the TV announcing team for this year's ALCS).
Smoltz entered that game as the closest thing we know to Cliff Lee. He was 9-1 with a 2.35 ERA career in postseason play. In that 1996 postseason, he started with four straight wins, in which he allowed four earned runs in 30 innings. That included a 12-1 drubbing of the Yankees and Pettitte in Game 1 of the series at Yankee Stadium.
Best Postseason Win Pct by Starter
At Time of Loss vs Yankees
Pettitte at that point was a postseason pup, far from the pitcher who now has 19 career postseason wins, most of anyone. In five postseason starts, he was 1-1 with a 6.16 ERA, with that rout against the Braves his most recent effort.
What does it take to beat Mr. Invincible? In this case, it took both effort and some good fortune.
The Yankees scratched out a run against Smoltz in the fourth inning, partly thanks to an error by the Braves centerfielder, four-time Gold Glove winner Marquis Grissom, which led to an RBI double by Cecil Fielder.
The Braves threatened to match the score in every inning the rest of the night. Timely double plays wiped out threats in the fourth and sixth innings. A caught stealing erased trouble in the fifth.
Pettitte survived a Derek Jeter error to strand a man in the seventh and persevered to get through the eighth inning after a Grissom two-out hit.
The ninth inning was one of the defining innings in Yankees history, with John Wetteland replacing Pettitte after Chipper Jones led off with a double and advanced to third base when Fred McGriff's groundout was speared by Tino Martinez.
The tying run would stay 90 feet away when Javy Lopez grounded to third, and then after an intentional walk to Ryan Klesko, Luis Polonia's fly ball to right center was chased down by a sprinting Paul O'Neill. The Yankees had a 3-games-to-2 lead in a series they would take two days later back in the Bronx.
What did it take to beat the unbeatable? It took Pettitte pitching one of the best games of his life -- 8 1/3 scoreless innings on the road against the defending champs.
"He was as good (that day) as I've ever seen him," Smoltz said a couple of days ago.
If that game isn't enough from which Yankees fans can draw inspiration, here are a few others.
The Elias Sports Bureau tells us that the Yankees have beaten four other starters who entered a game with at least four postseason decisions, and a winning percentage of .800 or better.
There have been other instances in which the Yankees have won against the bullpen in a game in which the opposing starter entered with brilliant postseason history (Orel Hershiser, 1997 Indians, Curt Schilling, 2001 Diamondbacks among the most recent of them), but there's some extra satisfaction to be gained from the games listed below, in which the Yankees made a postseason Superman into a mere mortal.
Lew Burdette, 1958 World Series
Lew Burdette was the No. 2 man on a Milwaukee Braves staff headlined by Hall of Famer Warren Spahn, but in the 1957 World Series, he established himself as a Yankees-killer. He pitched complete games to beat the Yankees in Games 2, 5, and 7, pitching shutouts in the last two (the second one on two days rest) to basically win the series single-handedly.
Burdette beat the Yankees in Game 2 of the 1958 World Series, making him 4-0 with a 1.50 ERA heading into his Game 5 start. There was a ding in his armor though -- he allowed five runs in the Game 2 win, winning because the Braves scored 13 for him.
The Yankees got to Burdette for six runs in the sixth inning of Game 5 to win, 7-0 behind a shutout from Bob Turley. When the Braves rolled the dice on Burdette again in Game 7, the move almost paid off.
The teams were tied 2-2 in the eighth inning (Turley pitched brilliantly in long relief) before the Yankees staged an epic two-out rally, keyed by an RBI single by Elston Howard and a three-run homer by Moose Skowron to win, 6-2, and take back the World Series title from their arch-nemesis.
Don Sutton, 1978 World Series
Don Sutton was the ace of the Dodgers team that lost to the Yankees in back-to-back World Series in 1977 and 1978. He'd start his postseason career 5-0, including a complete game win over the Yankees in Game 5 of the 1977 World Series.
Sutton would lose a game to the Phillies in the 1978 LCS but entered Game 3 of the World Series with a 5-1 record and 2.52 ERA. He was also pitching with the benefit of a 2-0 series lead.
Sutton's reputation wasn't enough in this game. The Yankees would score a run in both the first and second innings and 25-game winner Ron Guidry took care of the rest in an eventual 5-1 win.
Sutton's magic touch wouldn't have significance in Game 6 either, as he allowed five runs in 5 2/3 innings, as the Yankees wrapped up the series with a 7-2 win.
Pedro Martinez, 2003 ALCS
What did it take to beat Pedro Martinez, who entered Game 3 of the ALCS 4-0 with a 2.13 ERA?
It took Martinez being a little off his game that day, the usually-tough righty failing to hold a 2-0 lead, as Karim Garcia started a rally with an RBI hit and Derek Jeter added a game-tying homer.
An Alfonso Soriano RBI hit in the fourth inning gave the Yankees the lead, which they added to after the bizarre incident in which bench coach Don Zimmer charged Martinez after Garcia was hit by a pitch.
A 4-2 edge was enough for Roger Clemens, with relief help from Jose Contreras and Mariano Rivera to give the Yankees a 2-1 series lead.
Martinez came close to avenging the defeat in Game 7, but the Yankees rally from three down in the eighth to win on Aaron Boone's walk-off home run thwarted the effort.
Curt Schilling, 2004 ALCS
Curt Schilling entered Game 1 of the 2004 ALCS 6-1 with a 1.74 ERA in postseason play. But the Schilling the Yankees saw in Game 1 was pitching on a bad ankle, and he was unable to conjure up the same magic. Schilling allowed two runs in the first inning (both with two outs) and four more in the third inning. The Yankees jumped out to an 8-0 lead before hanging on to win, 10-7.
Of course, the important thing to remember here is that Schilling got another crack at the Yankees in Game 6 (The Bloody Sock Game), and won with one of the most memorable performances in postseason history.
The Yankees may get to Cliff Lee tonight, but they'd be wise to take care of business the next three days so not to have to face him again. Beating the unbeatable isn't something that happens every day.
Mark Simon is a researcher for Baseball Tonight. Follow him on Twitter at @msimonespn.