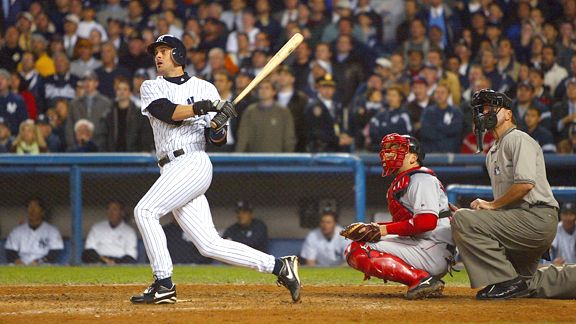 Al Bello/Getty Images
Aaron Boone's pennant-winning walk-off home run against the Red Sox happened seven years ago today.
Throughout the postseason, Baseball Tonight and SportsCenter will be running a feature "I Hit a Walk-Off Home Run," spotlighting some of the most famous walk-off home runs in postseason history.
Feature producer Lisa Fenn talked to ESPN analyst Aaron Boone about the walk-off home run he hit to end the 2003 ALCS, seven years ago today. Here's what Boone had to say:
"I was not having a very good series, and, didn't even start Game 7. That night started out kind of rough for us as a team. Pedro (Martinez) was shutting us down, they got out to a quick lead off of us. It was looking like they were gonna finally 'Reverse the Curse.'
Willie Randolph told me before the series that I was his sleeper pick. I remember Mo (Mariano Rivera) getting out of the eleventh inning, pitching his third scoreless inning, I knew running off the field that inning, I had a feeling like I was gonna do something.
"As I'm walking up to the plate, initially I was thinking about taking a pitch. And on my way up there, I kind of changed my thought and said 'forget that.' You know, 'you've been thinking too much this series. Just go up there and get a good pitch to hit. The first pitch was a good pitch to hit … and I got a good piece of one.
Walk-Off HR
Yankees Postseason History
"When I made contact I knew almost instantly that it was gonna be a home run. I knew I got a really good piece of it. Just wanted to make sure initially that it was gonna be fair and once I knew it was gonna be fair… stuck my arms out, and really just tried to embrace as much as I could."
"All of us kids that played ball when we were little kids, all lived out that moment in our backyard -- Two outs, bottom of the 9th, 3-2 count, Aaron Boone at bat … and you hit the home run. To get to actually live that out on a major league field in Yankee Stadium against the Red Sox was something that … I feel really blessed to just be in that situation."
Earlier this season, we ran a list of noteworthy nuggets pertaining to Boone's home run. We repeat them here for your enjoyment, thanks to the help of Baseball-Reference.com:
Speaking of walk-offs -- Boone was a member of the 1999 Reds team, which he says invented the celebratory home plate "bunny hop" that follows a walk-off home run. Boone didn't bunny-hop that season, but if you include his Game 7 home run, he had seven career walk-off home runs. His brother Bret, father Bob, and grandfather Ray, combined for just six.
Tim Wakefield gave him trouble -- Boone was just 1-for-10 against Wakefield, combining his regular season and postseason numbers, and finished 3-for-17 against the Red Sox knuckleballer. After hitting the home run, Wakefield got him out five times in a row, before Boone doubled in the last matchup between them.
He was the right man at the plate -- You may have heard this referenced on Baseball Tonight during "Stat Week." We played with the numbers a little bit to indicate that Boone was the third-most clutch Yankee during his stretch with the team, behind Jason Giambi and Derek Jeter. What this really meant? His clutch rating, as calculated via his Win Probability Added numbers (found on Fangraphs.com), showed that he performed slightly better in big spots than ordinary ones.
Extra Innings Was His Specialty -- Some players may have gotten tired at the end of games, but not Boone. He hit .319 with a .440 on-base percentage and six home runs in 69 extra-inning at-bats.
He's the only one -- Of the 39 players to hit a postseason walk-off home run, Boone is the only one to work as an analyst on Baseball Tonight. And thus he can give you a perspective that the likes of Nomar Garciaparra, John Kruk, Chris Singleton, and our other analysts cannot.
For the record, Aaron Boone's playoff predictions: Yankees in 6, Phillies in 7. He was 4-for-4 in picking the LDS correctly.