ARLINGTON, Texas -- Before Derek Jeter spoke to a pack of reporters at his locker after Game 1 of the ALCS, he yelled out, "Hold that bus!"
He was talking about the bus back to the hotel after the Yankees' come-from-behind 6-5 win over the Texas Rangers, but Jeter could have been referring to the bus that was rolling over his legacy.
Because after Brett Gardner hustled to lead off the eighth with an infield single, it was Jeter's double that restored the faith -- in his postseason heroics and the Yankees' comeback chances. CC Sabathia, watching in the Yankees' clubhouse after his poor start, thought that Jeter's hit was the one that gave the Yankees hope. It scored Gardner and cut the Rangers' lead to three runs.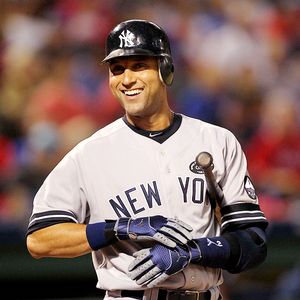 Matthew Emmons/US Presswire
Derek Jeter struck back at the haters Friday night.
"There were no outs," Sabathia said when asked why Jeter's hit was so important.
Jeter, who added a second double in the ninth, would go on to score, too, and the Yankees came back to take the lead for good, possibly crushing the Rangers' chances in this series.
Yankees hitting coach Kevin Long, who thinks Jeter has been his old self since the beginning of September, said that Jeter had the look of a confident hitter.
"He couldn't wait for his next at-bat," Long said. "He came through like Derek Jeter comes through."
With his contract negotiations upcoming, that's important for Jeter, who hit a career-worst .270 this year.
As Yankees President Randy Levine left the park elated, a reporter joked with him that Jeter just earned himself a couple of extra million.
Levine laughed. He and the Yankees would be happy to pay if Jeter continues to hit like he did in Game 1 of the ALCS.
As for those running over the final years of his Yankee legacy, at least on Friday night, the message was clear: Hold that bus.