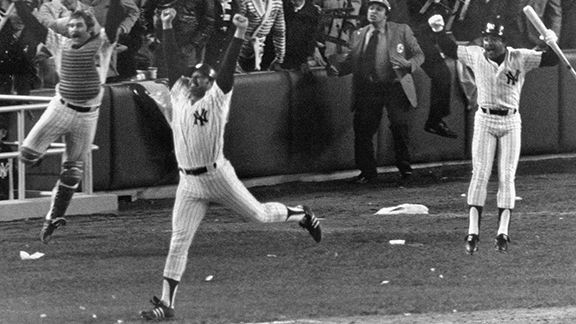 Ray Stubblebine/AP Photo
Chris Chambliss has great memories of the moment his walk-off home run landed and made the 1976 Yankees American League champs.
Throughout the postseason, Baseball Tonight and SportsCenter will be running a feature "I Hit a Walk-Off Home Run," spotlighting some of the most famous walk-off home runs in postseason history.
Feature producer Lisa Fenn talked to Chris Chambliss about the dramatic walk-off home run he hit to win Game 5 of the 1976 ALCS and the AL pennant. Here's what Chambliss had to say:
That was one of the most exciting games I've ever been in. George Brett tied it with a three-run homer and that's what tied the game and got us to the ninth inning.
I was the first hitter in the bottom of the ninth. I had learned to that point that thinking home run was not too good because I didn't have good swings when I tried to hit a home run, so I just tried to put a good swing on the ball and it happened to be in the right place.
Series-Ending Walk-Off Home Runs
MLB History
(Mark Littell) threw a high fastball and I took a good hard swing at it. It was up a little bit, and I was able to hit it high in the air to right field,and it went over the fence.
Their right fielder went right to the wall and he jumped for it and everything, so I didn't know it was over the fence until he didn't come down with it.
What made me go after the first pitch? Because it looked good. It was high. It was over the plate. I'm an aggressive guy so I swung at a pitch in a zone that I thought that I could get a good swing at.
The chaos started because I made it around first base and got to second base and there were fans all over the field.
I remember tripping. I went down to one knee. Somebody tried to steal my helmet from behind. From then on it was like how do I get myself to the dugout?
I went into the clubhouse and everybody asked me "Did you touch home plate? I took two security cops and the three of us made our way back onto the field. Home plate was already stolen, so it was a bare ground there but I put my foot on it and we went back.
Later on, I talked to the umpires, the guys who actually did the game and they said 'Listen, under those circumstances touching the bases was a moot point. So it was a home run as soon as it went over the fence.
I don't even remember having my arms up like that (in the photo above). What's even more special about it is, as I went down a little further: Elston Howard was a big influence on my career, he was the first base coach and there were some people who have a shot of me actually shaking hands with him, which is a shot that I'd love to have.
I have the bat and the ball. I didn't know for a long time but Graig Nettles is the reason I have the bat. I hit the ball, I probably just dropped it like I usually do but Graig Nettles had the presence of mind to run on the field and pick up the bat. He took the bat and went back to the dugout . Graig used my bat to protect our gloves and our hats and um he's the reason I have the bat today.
I've got a close No. 2 (moment) because the following year we got into the World Series we were in Game 6 of the 1977 World Series. That's the day that Reggie (Jackson) hit the three home runs.
Before Reggie hit the three home runs I hit a two-run homer early in the game. We were down 2-0. I hit a two- run home run off Burt Hooton that I hit harder and further than the playoff home run, and it was my only World Series home run, so that's a huge moment for me personally.
Would I have loved to see the eyes of my teammates, see me jump into the pile at home plate? I'd say 'Yeah that would've been wonderful, but you know you're never gonna change that, so that's the way it happened.
When I see it I'm proud. I'm happy that I was part of a special moment in Yankee history."
---
Five things you may not have known about Chris Chambliss' walk-off home run in Game 5 of the 1976 ALCS, from Mark Simon, ESPN Stats and Information.
1- Chambliss's walk-off home run was the second series-ending home run in postseason history. There have been six since, the next being Joe Carter's World Series-ending walk-off home run for the 1993 Blue Jays.
2- Chambliss hit .524 in the 1976 ALCS, with 11 hits in 21 at-bats. That's the highest batting average in an LCS in Yankees history (the 2010 LCS is their 14th LCS).
3- Chambliss hit .321 in the regular season against the Royals, his highest batting average against any major league team.
4- Chambliss, who hit six regular season walk-off home runs hit one other one in 1976 and it was pretty dramatic. With the Yankees trailing the Red Sox, 5-3 with two outs in the ninth inning on July 25, Chambliss hit a game-winning three-run home run.
5- The Yankees dominated the MVP voting in 1976. Catcher Thurman Munson won it, outfielder Mickey Rivers finished third, and Chambliss placed fifth, tied with Twins infielder Rod Carew.