Wednesday afternoon, Nick Swisher donated his face to science.
The Yankees outfielder sat for the first straight-razor shave of his life, at The Art of Shaving in Glendale, Calif. For the remainder of the month, Swisher's face will become an ever-changing billboard for the men's health charity Movember, which raises awareness and research funds for the Prostate Cancer Foundation and Livestrong.
Started by a group of friends in Australia in 2003, Movember asks men to go clean-shaven on Nov. 1 and then sacrifice their faces by growing mustaches ("mo's" in Aussie-speak) for the remainder of the month to raise awareness of men's cancers by starting a conversation sparked by their 'staches.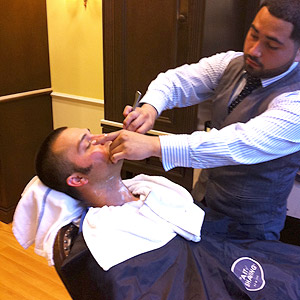 Jack Choate
Swisher takes one on the chin for a good cause.
This isn't the first time Swisher has sacrificed his face for a cause. He once dyed his goatee pink on Mother's Day to raise awareness of breast cancer and blue on Father's Day for prostate cancer. In 2007, he grew his hair for nearly a year before cutting and donating it to a charity that makes wigs for women going through chemotherapy.
"I lost my grandmother in 2005 and my mom is currently going through leukemia," says Swisher, who has his grandmother's initials, BLS, tattooed over his heart. "So when someone says cancer, I come running. Everyone knows someone -- a friend, relative, coworker -- who's dealt with cancer. For me, it hits close to home, so I'm so excited to be a part of Movember."
Swisher isn't the only pro athlete who will be sporting facial hair this month. Earlier this week, Anaheim Ducks right wing George Parros, who's known as much for his upper lip as his uppercuts, shaved his infamous mustache and is re-growing it in support of Movember. Twelve of his teammates are also taking part in a stache-off, as are members of the Washington Capitals, Minnesota Wild, Atlanta Thrashers and Nashville Predators.
Swisher says while women's cancers receive a lot of attention, men are more reluctant to talk about their health, but the fun nature of Movember might draw them in. "As men, we get masculine and don't take the proper precautions, especially with prostate cancer. We don't talk about this stuff in the clubhouse. We think we're Superman. But we need to be more realistic and get checked. This world is an amazing place to be and the longer you can stay, the more fun you can have."
Swisher says he plans to experiment with his 30 days of growth, but his ultimate goal is more Gossage than Giambi. "I'm going to take it back to my West Virginia roots and rock the Fu Manchu," he says. "I hope a lot of guys join me. Guys need something to bring us all tighter together, and I think that's the mustache. We need to bring it back." So will his teammates take part? "We'll see. I don't know if A-Rod could pull off a mustache."
However, as much fun as Movember might be, come December, Swisher will be right back in the barber's seat. "I'm getting married, so I will be clean-shaven for my wedding day."