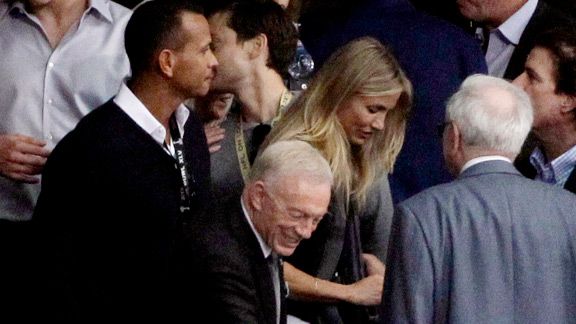 AP Photo/Mike Groll
Alex Rodriguez and Cameron Diaz make their way to their seats before the start of Super Bowl XLV.It probably wasn't the moment Alex Rodriguez would've chosen to have broadcast to the nation on Super Bowl Sunday. But how many people reading this blog -- even if you did have a chuckle at his expense -- did not feel the tiniest twinge of jealousy when the Fox cameras focused in on A-Rod just as his girlfriend Cameron Diaz was feeding him popcorn?
If you blinked -- or got up to replenish your drink -- you might have missed the Yankees third baseman getting buttered up by his gal pal in the same suite of seats as ex-President George W. Bush and first lady Laura, former Secretary of State Condoleezza Rice, NFL broadcasting legend John Madden and others.
Apparently the crowd at Cowboys Stadium didn't miss it, though. The Dallas fans loudly booed the former Texas Rangers star when he appeared on the jumbotron.