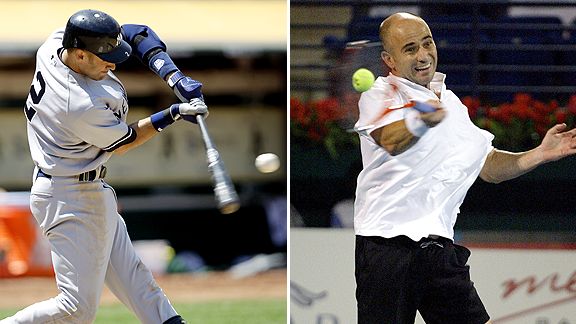 AP Photo/Getty Images
How does Derek Jeter's swing resemble Andre Agassi's? Read below to find out.
Last week, I got asked by one of ESPN's anchors to make a statistical evaluation as to whether Derek Jeter's career has been overrated.
There are a lot of ways to approach that question, and it seems trendy to knock aspects of Jeter's game, but in answering, I decided to focus on one element of Jeter's game-- his Batting Average on Balls in Play (BABIP).
For those unfamiliar, this statistic is what it says it is—it tells you the batting average of a hitter when the ball is put into the field of play (not a strikeout, not a home run). The major league average BABIP has consistently been between .295 and .305 for many years, meaning that a ball put in play is a hit typically about 30 percent of the time
What is BABIP?
Definition
Some think that a BABIP significantly higher or lower than .300 is due to luck, but that's not exactly true (for a great primer on the subject, read Tristan Cockcroft's 2010 piece). A hitter's BABIP can be a product of skill. Hitters with good BABIPs usually are either fast (and able to beat out more ground balls than normal) or hit a lot of line drives (which result in hits at a higher rate than fly balls and ground balls).
Jeter's career BABIP is .354. That sounds extraordinary because it is.
It turns out that Steve Lombardi of Baseball-Reference.com wrote of this back in late May. Let's expand upon his findings.
Among players whose entire careers took place in the Live Ball Era (ie: since 1920), the highest BABIP among players with at least 5,000 plate appearances belongs to Hall of Famer Rod Carew, .359.
Jeter and Ichiro Suzuki are literally neck-and-neck for the top spot among active players. If both retired today, Suzuki would be second all-time, just ahead of Jeter.
For reference, ex-Red Sox and Yankees star Wade Boggs' career BABIP was .344. contact master Tony Gwynn's was .341. Hall of Fame outfielderLou Brock finished at .338 and I'm guessing that was largely due to his speed.
Among all-time great Yankees, Babe Ruth finished with a .340 BABIP. Lou Gehrig ended his career at .332. Both of those are padded by a point or two because sacrifice flies were not officially tallied then. Mickey Mantle's career BABIP was .318. His two best seasons were 1956, in which he won the Triple Crown and had a BABIP of .356, and 1957, in which his BABIP climbed to .378.
As good a hitter as Don Mattingly was in his prime, his best BABIP was .333. For his career, he finished at an even .300.
I wanted to get a better sense of what Jeter's .354 BABIP meant to a major league player, so I asked our Baseball Tonight analyst, Doug Glanville on what the stat meant to him.
"Jeter's swing is an optical illusion," he said.
Glanville paired his explanation with that of fellow analyst, and ex-shortstop Barry Larkin to explain the difficulty of trying to defend Jeter on last Friday's Baseball Tonight.
"My job as an outfielder is to get a good read, a good jump, so I'm always cheating one way or leaning another, anticipating, based on the location (of the pitch) and the hitter," Glanville said.
"The thing about Jeter is, you could throw a ball inside and tie him up, and he's so late with (his swing) with which way he's going to hit the ball, that you get a late jump on it.
"An inside curveball, as an outfielder, you're not sure where he's going to go with that. With most hitters, you have a split second to judge). But with Jeter, you have to wait to see what's going to happen. He could rifle a ball down the right field line, or hook it down the left field line.
"You're thinking, I can't get a great read, because I don't know which way Jeter is going.
Derek Jeter
Best BABIP by Season
"He's like a great tennis player, like an Andre Agassi. You change directions (with your approach) at the last second and it causes everybody to get flat-footed.
"The split-second you lose as a fielder is the difference between an out and a hit."
Said Larkin: "As an infielder, it happens even quicker than it does in the outfield. The fact that he stays so squared to the plate. Most of the time, a guy will open up his front side (of his body) if he's going to pull the ball, or stay closed (in his stance) if he's going to hit the ball the other way.
"As a shortstop, that's what I'm reading (for positioning). Jeter makes every adjustment (to a pitch) with his hands. It makes it very difficult for an infielder to get a jump on the ball."
Sunday Night Baseball analyst Orel Hershiser completed our perspective on the subject by putting it this way: "He used the hole on the right side of the infield like a left-handed hitter would. And he hit the ball hard, a lot."
Jeter ranked fourth-best in the majors from 2002 to 2009 (2002 is as far as Fangraphs goes back) in terms of lowest percentage of balls in play that were fly balls- just over 23 percent. That helped keep his BABIP high. But when Jeter hit fly balls, they produced hits at a good rate, perhaps because of what Glanville talked about.
Baseball-Reference.com allowed us to take our analysis a step further. It uses Retrosheet play-by-play data to estimate batting average on ground balls, line drives and fly balls. This isn't a perfect estimate, but it's the best we can do.
Let's use 2003 as an example to show just how well Jeter's plate approach worked.
That season, Jeter got hits on 25 percent of the fly balls he put into play. That rate was nearly double the American League average (13 percent). His rate of hits on line drives was 84 percent, also significantly better than the AL average (74 percent).
Why was that? Because he had great success hitting to the opposite field (we know those as "Jeterian hits") His BABIP on balls hit to the right side was .451. The major league average was .276.
Let's put all this in tangible terms. If Jeter had been an average AL hitter that season, he should have had 11 hits on the 84 fly balls he hit that stayed in the ballpark.
Jeter had 21.
And on 76 line drives that stayed in play, an average AL player would have produced 56 hits.
Jeter had 64.
So that season, Jeter had 85 hits, 18 more than an average player would have.
Tack 18 hits on to a major league hitter and how does that change your perception of him. That's enough to turn a .300 hitter into a .330 hitter.
That is what made Jeter the player that he was, year in and year out for a long time.
Can someone with that sort of all-time great skill level be overrated?
I think we know the answer to that.