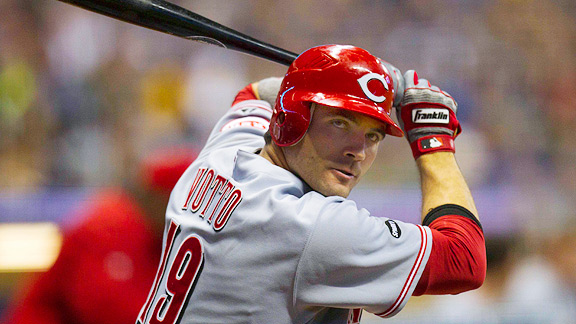 Jeff Hanisch/US Presswire
If one scout had his way, 2010 National League MVP would be playing for the Yankees.
If you ask anyone in Cincinnati, Joey Votto looks great in red.
But one former Yankees scout thinks he'd look even better in pinstripes.
According to ex-Yankees scout and current Brewers executive Dick Groch, the Yankees were this close to landing Votto in the 2002 amateur draft.
"If Cincinnati had not taken him, we would have taken him with our first pick," Groch, who also scouted Derek Jeter for the Yanks in the early 1990s, said earlier this month.
#19 1B
Cincinnati Reds
2011 STATS
GM

72

HR9

RBI43

R49

OBP.449

AVG

.327
Between Groch and his assistant scout, the Yankees saw "every inning of every game" Votto played in high school in Etobicoke, Ontario.
Groch knew quickly that Votto was a prospect. After a while, either he or his assistant were just showing up to games to see if other teams were interested in Votto.
According to Groch, the Yanks and the Reds -- who found out about Votto after he played in a showcase tournament in Florida -- were the only teams high on Votto heading into the draft.
Groch was so high on Votto that he was in his living room on June 4, 2002 -- the first day of the draft -- sitting with Joey and waiting for the Yankees to select him.
Problem was, the Yanks had lost their first-round pick after signing free agent Jason Giambi in the 2001 offseason.
That allowed Cincinnati to swoop in and select Votto with the 44th pick. The Yanks were stuck with pitcher Brandon Weeden with the 71st pick.
"[Votto] was right at the top of our board at the time. In fact, we would have taken him had the Reds not taken him," said Mark Newman, senior vice president of operations.
Votto won the National League MVP in 2010. Weeden was out of baseball by 2007. Groch was devastated.
"That's the depressing part," Groch said. "You sit there so disappointed. … It was that close."
Votto will take the field Monday night against the Yankees leading the National League in on-base percentage, fourth in batting and sixth in runs scored.
Groch still wonders what the left-handed hitting Votto could do over 81 games in the Bronx.
"Can you imagine him in Yankee Stadium?" Groch said.
Unfortunately for Groch and the Yankees, imagining Votto in pinstripes is the best they can do.