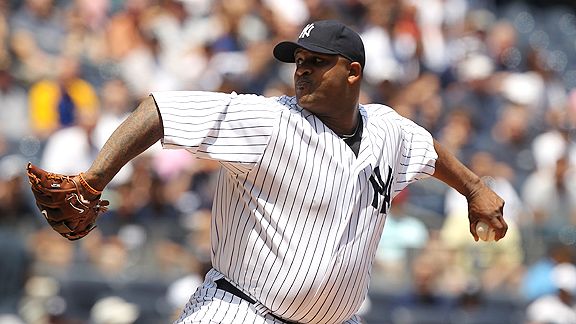 Al Bello/Getty Images
CC Sabathia tied a career-high with 13 strikeouts on Thursday against Milwaukee.
He's pitched in big regular season games, even bigger playoff games and in the World Series.
So you wouldn't expect CC Sabathia to be rattled by the prospect of a late June start in the Bronx.
But moments before he took the mound against the Brewers on Thursday, he felt flat-out nervous.
Sabathia peered into the opposing dugout and saw Ryan Braun, Prince Fielder, Rickie Weeks and other Brewers he'd played with down the stretch in 2008. These were guys he grew close to during a memorable playoff run in Milwaukee. So he couldn't help but feel anxious at the prospect of trying to get his old buddies out.
"I try to be laid back and try not to let that affect me," Sabathia said.
But it did.
And the funny thing is, none of that nervous energy could take Sabathia off tilt on Thursday.
The big lefty baffled his old team all afternoon, tying a career-high with 13 strikeouts (all swinging) in 7 2/3 shutout innings en route to his 11th win. He is now tied with Detroit's Justin Verlander for the major league lead in wins.
"Just a brilliant outing," is how Joe Girardi described it.
It started with back-to-back strikeouts of Weeks and Carlos Gomez in the first. After a single by Braun, Sabathia whiffed Fielder, his good buddy. He got Fielder again with the bases loaded in the third.
"I just tried to put it where he couldn't do much damage," Sabathia said.
He retired nine of the next ten Brewers he faced, four on strikeouts. He got two more K's in the sixth but was lifted with two out in the seventh with his pitch count at 118.
Sabathia left the mound to a loud ovation and with a tiny piece of big-league history in his back pocket. Sabathia has now won at least 11 games in his first 11 seasons in the big leagues, the longest such streak since Tom Seaver did it from 1967-77.
Thursday was also the 167th win of Sabathia's career. According to the Elias Sports Bureau, Sabathia is tied with Bert Blyeven for the highest win total among pitchers younger than 31 in the past 30 seasons.
"I just made pitches," the understated Sabathia said after the game.
Sabathia's been "just making pitches" -- and making them well -- for a while now.
He's 11-3 with a 3.18 ERA over his last 14 starts after going winless in his first four of 2011.
That the most recent win came against Milwaukee -- a team he went 11-2 for down the stretch in 2008, lifting them to the playoffs -- was special for Sabathia.
"I played with a lot of these guys, I still talk to a lot of these guys," he said. "That was my team. That was a special moment."
It certainly was. So was Thursday afternoon.