AP Photo/Gregory Bull
Is Trevor Hoffman (above) the greatest closer ever? Padres radio announcer Ted Leitner says yes.Yankees fans like to think of Mariano Rivera as the greatest closer in baseball history.
They couldn't be more wrong -- at least according to San Diego Padres radio announcer Ted Leitner.
In a ceremony retiring Trevor Hoffman's No. 51 at Petco Park on Sunday, Leitner told the 40,000-plus in attendance that there is no question: The best closer of all time ... is Hoffman.
The 50 Greatest Yankees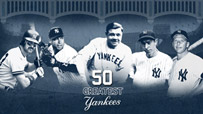 Choosing the 50 Greatest Yankees was a daunting task. ESPNNewYork.com rose to the challenge. Top 50

Rank 'Em"And I know, baseball fans -- baseball broadcasters -- we love to argue. So we argue, who's better? Who's the best? But there is no argument," Leitner said. "This is not a Padre broadcast bias. It's not a Padre fan bias. We know this. The only true measure of a closer is how many saves did you get. So today, without any fear of argument, I tell you that, today, the San Diego Padres retire the number of truly -- by that benchmark, the only benchmark -- the greatest closer in the history of Major League Baseball."
While his words drew a hearty applause from the hometown crowd, we can only imagine the Bronx cheer Leitner would've have gotten if he'd made a similar proclamation at Yankee Stadium.
Rivera currently needs nine saves to tie Hoffman atop the all-time list with 601, though Mo, as most Bombers fans know, also has a bunch of postseason saves on his resume -- 42, to be exact -- including a few worth mentioning in the 1998 World Series, a Bombers sweep of Hoffman's Padres.
Perhaps Leitner lost count that October, or has blocked out the sight of Scott Brosius rounding the bases in Game 3, but we score that Fall Classic: Rivera 3, Hoffman 0.
So, Yankees fans, what do you say? Click here to watch the video -- then leave your thoughts in our comments section below.