In the sixth inning Thursday night, Yankees center fielder Curtis Granderson made a sprawling catch to end a Red Sox threat.
There are certain plays that Granderson is very good at making. This was one of them (as Chris Singleton details in the video above). He's made his share since becoming a member of the Yankees in 2010.
But how do we reconcile that with a statistic that shows Granderson's defense rates among the worst in baseball?
This was a hot topic recently regarding Granderson's MVP candidacy, and a fear that these defensive metrics will hurt his postseason award chances.
That's a question that only MVP voters can answer. What we want to look at is why Granderson's defensive rating is what it is this season.
---
How is Granderson's defensive value computed?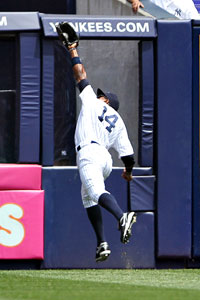 Anthony Gruppuso/U.S. Presswire
Curtis Granderson has gotten to his usual share of balls this season ...There are several systems that look at data in different ways. All agree that this is a down defensive season for Granderson. We'll look at one system more closely. It was designed by sabermetricians Bill James and John Dewan of Baseball Info Solutions (BIS) and calculates both a Plus-Minus Rating and a Defensive Runs Saved rating.
The key component to these metrics is how well a fielder turns a batted ball into an out, regardless of whether the play is a hit or an error. BIS has a group of trained film-watchers who input batted ball information onto a baseball diamond grid.
The system can then compute batting average based on whether the ball hit to the outfield was a fly ball, line drive, or fliner (those fly balls/line drives that are hard to classify) and the spot in which the ball landed.
Let's say a ball is hit to a spot in which it is turned into an out 75 percent of the time.
Fielders who make plays there get a credit of 25 percentage points (for being better than 25 percent of their peers), which is then multiplied by two or three if the average hit to that spot is a double or triple.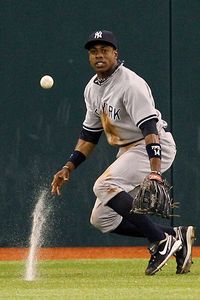 Mike Carlson/AP Photo
But Granderson has also missed a few more than usual ...Fielders who miss those plays are debited 75 percentage points (for being worse than 75 percent of fielders) which is then multiplied by two or three if the resultant hit is a double or triple.
The system does not consider where each fielder was positioned. Granderson gets the same penalty for missing a fly ball to straightaway center regardless of whether he was playing straightaway, or cheating a couple of steps in either direction.
This may seem unfair, but this statistic is meant as an overview, just like batting average, on-base percentage, and slugging percentage are overviews.
It covers every ball put into play, making exceptions only for balls such as those that hit the top of the Green Monster at Fenway Park (which are not caught by anyone)
The sum of all those credits and debits is the Basic Plus-Minus rating, and its companion (which calculates based on the sum of the multiplied numbers) is an Advanced Plus-Minus rating.
Those are combined with another stat, which measures the deterrent value of an outfielder's throwing arm, to calculate a Defensive Runs Saved rating.
Granderson rates a -10 plays in Basic Plus-Minus, -28 bases in Advanced Plus-Minus and a – 13 Defensive Runs Saved.
He rates second-worst among all major league center fielders in Advanced Plus-Minus, and worst overall in Defensive Runs Saved (despite a positive rating for his throwing arm).
Curtis Granderson's Defense
Advanced Plus-Minus
We can zoom in on these metrics more closely, thanks to Bill James Online. Granderson rates positively on balls hit to the shallowest parts of center field (+1), slightly negative on balls hit to the deepest parts of center field (-8) and very badly on balls hit in between those two areas (-20).
We asked for even more detail, which BIS provided:
Granderson rates a +9 on balls hit to left-center, a -19 to straightaway center, and a -14 on balls hit to right-center.
Granderson frequently plays alongside Gold Glove candidate Brett Gardner in left field, which means he doesn't have to go into left-center too often to make plays. But Gardner's making catches in left-center, on balls Granderson may not get to, prevents Granderson's rating from going down as well.
This sounds a lot more complicated than it is. Here are the two key things to remember:
1. The difference between catching and just-missing a double in the gap is sizable and the penalty for botching a fly ball hit medium-deep into center field that turns into a triple is significant.
2. If Granderson makes 300 catches and has 30 "just-misses" over the course of one season, then makes 290 to 295 catches and has 35 to 40 "just-misses" the next season, the difference may not be visible to the eye.
But his defensive rating takes a big hit, just as five to 10 hits for a hitter with 300 at-bats can make a huge difference in his batting average.
---
Looking at 2011
Baseball Info Solutions provided a list of the 15 plays that most hurt Granderson's Plus-Minus rating this season -- those that cost him at least 1.5 points in the Advanced Plus-Minus system.
We watched each of those and pulled six as examples of why Granderson rates as he does. Had Granderson made these six plays, it would have wiped out more than half of his -28 Advanced Plus-Minus rating.
• April 13 vs Orioles, Mark Reynolds double
Playing shallow, Granderson comes up a couple of steps shy of Reynolds' fly ball to left-center field. Granderson initially turned one way, then circled back the other, but couldn't make the catch. Al Leiter noted on the game broadcast that the Yankees had strategized playing Granderson shallow this season. This was one where they paid the price.
"Curtis does certain things well, but I think he struggles to go back on balls," said Baseball Tonight analyst and former center fielder Doug Glanville. "Sometimes he doesn't look comfortable choosing how to get to a ball. When you're going back on a ball, you have to have a period of time where you're not dealing with the ball, where you're focusing on a spot. Keeping the ball in your sights all the time slows you down."
• April 30 vs Blue Jays, Rajai Davis triple
On a sunny day in the Bronx, Davis' line drive sails right over Granderson's head. The Yankees center fielder staggers back and to his right, and reaches up but misses it. Davis ends up with a triple.
"That's the toughest play in baseball," Glanville said. "When the ball is coming right at you. You have to be able to adjust to every turn you make. Sometimes with the sun, there's nothing you can do. You don't want to play right where a ball is going to be hit, especially in the sun. You want to be off the angle a little bit. If the ball is hit to you in the sun, that's a bad thing. Though sometimes with the sun, there's nothing you can do."
• July 9 vs Rays, Johnny Damon triple
On an 0-2 curveball, in the eighth inning from David Robertson, Damon poked the ball over Granderson's head, to the right-center field warning track. Granderson slipped on the dirt, allowing Damon to make third base uncontested.
This play may have been lost in the memory banks of most fans. It came the same day as Derek Jeter's 3,000th hit.
Worth Noting: These defensive systems grade on a curve. Each center fielder is compared relative to his peers. And there are a lot of good center fielders –-like Franklin Gutierrez of the Mariners and Peter Bourjos of the Angels who can cover a lot of ground. A bad defensive center fielder could still be a pretty good defender.
• July 27 vs Mariners, Mike Carp triple, Adam Kennedy double
This was a rough day for Granderson. In the seventh inning, Carp's fly ball to dead center went in-and-out of Granderson's glove. Then, he lost Kennedy's fly ball in the sun and drifted to right center, only to watch the ball land a few feet behind where he was originally stationed.
Worth Noting: The Yankees have already allowed more doubles and triples than they allowed all of last season. Baseball-Reference.com charts hits by location as well. The Yankees entered Thursday having allowed 87 doubles to either center field or right-center. That's 19 more than any other team in baseball.
But Yankees pitchers are on pace to allow 37 fewer home runs. That may be why a double-digit rise in opponents Batting Average on Balls in Play isn't costing the Yankees as much as it might another team.
• Aug. 21 at Twins, Danny Valencia double
A softly-hit fly ball to right-center fell between Granderson and right fielder Nick Swisher when neither committed to making the catch (each appeared to think the other had it).
Here's the difference for Granderson: In 2010, he had six plays that gained him at least 1.5 points in the Advanced Plus-Minus Rating and six plays that cost him at least 1.5 points.
In roughly the same number of innings in 2011, Granderson had six gains of 1.5, but 15 losses of 1.5 or greater.
That's how you go from rating average to rating very badly.
---
Human judgement
We surveyed Yankees fans on Twitter, at work, and even in got into a thorough discussion with one at a local sandwich shop. Opinions varied. We heard from those who thought he was good, who thought he was average, and who thought he was bad. Defense is tough to measure.
BIS also tracks what it calls Good Fielding Plays and Defensive Misplays & Errors, in which it tags plays into approximately 30 positive (GFPs) and 50 negative (DM&E) categories. The system is explained in greater detail here. Granderson rates as high risk and high reward, ranking among the leading center fielders in both GFPs and DM&Es.
We asked a longtime major league scout for his assessment of Granderson. He rated Granderson as being a shade below average, and was uncomfortable putting him in the worst in baseball category just yet.
Here's his assessment:
"The best asset he possesses is his well above-average speed, which enables him to correct initial mistakes with reads and routes, and his ability to go all out to make a play.
He does not react well off the bat, almost as if he has a depth perception problem, which really shows up on hard line drives at him, which is a difficult play for most, and hard to practice. Having Gardner in left, he will cheat his positioning, yet he still gets burned, as he will play too shallow or too deep. There seems to be no happy medium.
Bottom line: He better hit a lot to make up for his defense."
The good news for the Yankees is -- he does.