Above: John Kruk remembers what it was like to face Rivera in 1995.
As Mariano Rivera enters Wednesday night with 600 saves, one shy of Trevor Hoffman's major league record, we offer up a few things to check out if you stay up late enough to watch him try to close out another game at 10 p.m. ET (on ESPN, outside of New York).
What2Watch4: The Motion
Tim Rumer was one of the top pitchers on the 1990 Gulf Coast League Yankees, a team that had the distinction of being Mariano Rivera's first professional squad after he signed at age 20.
"He looked the same, with maybe a little more hair," said Rumer, now living in Georgia and a business unit manager for Mizuno, one of the primary suppliers of baseball gloves to major league teams. "He was a quiet, reserved guy, who went about his business and did his work. He was maybe 88 to 90 miles per hour then, still the same fluid, really long motion. The ball would be on top of you faster than you think."
Most Saves
All Time
Rivera had an 0.17 ERA with one save in 22 appearances, all but one in relief for that Yankees team. The one start came on the final day of the season. Rivera threw a seven-inning no-hitter to finish with one earned run allowed in 52 innings.
Mike Lynch of Seamheads.com combed through minor league leaderboards for us, dating back to 1960, and could find only one minor league single-season ERA better than that, minimum of 50 innings pitched. In 2008, a pitcher named Ramon Acosta had a 0.00 ERA for the Twins' Dominican summer league team.
Rivera was almost perfect, even then. What was the one thing Rumer remembers him having to work on?
"He was too quick to the plate," Rumer said. "He had a slide step then. He was 0.9 seconds. They had to slow him up to get him to 1.1."
Using our amateur hands, we timed Rivera's delivery on the pitch/caught stealing that ended Tuesday's game three times. The three timings averaged out to 1.07 seconds. Not bad consistency for 21 years later.
What2Watch4: The Cutter
It wasn't long ago that we pointed out some issues Rivera was having with left-handed hitters. They aren't issues anymore.
Since Aug. 15, Rivera has faced 23 left-handed hitters and he's fared better, yielding three hits and two walks. Left-handed hitters are 2-for-19 when an at-bat ends with his signature pitch, the cutter.
The problem Rivera was having during that brief funk in August was that his cutter was catching too much of the plate when he faced a lefty. Rivera has made some adjustments, reducing the percentage of the time it ends in the strike zone from 45 percent (pre-funk) to 36 percent (since Aug. 10) and occasionally spotting the pitch on the outside edge.
Within this small sample, Rivera has nearly doubled the percentage of swings that lefties miss against his cutter, going from 12 percent (about one in eight) to 22 percent (nearly one in four).
The heat map at the bottom of this story shows the recent difference in location for Rivera's cutter.
By the way, no one is hitting Rivera well at the moment. In his past 12 appearances, he has 11 saves, an 0.75 ERA and a .146 opponents batting average.
What2Watch4: The Matchup
Cap-tip to our Yankeemetrician-writing colleague, Katie Sharp, for pointing out that Ichiro Suzuki is now 6-for-15 versus Rivera after his hit Tuesday night and looms as a tough matchup Wednesday. Among players with at least 15 at-bats against Rivera, only one player has a higher batting average: fellow Mariners great Edgar Martinez (.579, 11-for-19).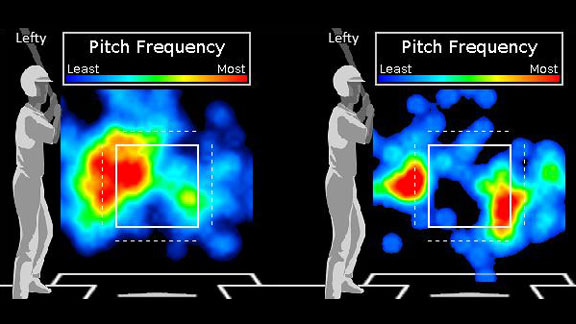 Left: Where Mariano Rivera was throwing his cutter to lefties, prior to Aug. 15.
Right: Where Rivera has thrown his cutter since then.